Karachi has received rains in the past few weeks, wreaking havoc on the city's shaky infrastructure and leading to several deaths. Also, not to forget unlimited power outrage and flooded streets affected the commute of citizens o Karachi. Just like other areas of Karachi, another area that has been adversely affected by the heavy rainfall is Naya Nazimabad.
The area of Naya Nazimabad is still submerged more than 36 hours after heavy rain inundated the area on Thursday. None of the representatives of the local administration or any of the rescue teams have visited Nazimabad to help the local residents. Social media videos show rescue teams of the Pakistan army in Naya Nazimabad are using boats to help the residents of the area.
It is also evident from the videos that cars and other vehicles have also drowned. Some cars even floated away due to the massive force of water. Many people don't even know where their cars are. Residents of the area say they have called the Naya Nazimabad management multiple times but haven't received any help.
Pak Army comes to the rescue of Naya Nazimabad residents
It was the Pakistani army that came to the rescue of the people in Naya Nazimabad after the heavy rain spell. They have started relief and rescue operations in the area. Meanwhile, cooked meals are being provided to the affected population struck due to heavy rains. Apart from the Pakistan army, now Rangers and Edhi teams are also working in the areas.
The life of the residents of the expensive project is in utter shambles after rain. Pakistanis on social media are in solidarity with its residents.
Naya Nazimabad falls under District Central. According to Sindh Chief Minister Murad Ali Shah, the area of Districts Central and East have been the most affected by the spells of monsoon.
Another Monsoon spell to Hit Sindh & Balochistan soon
The Pakistan Meteorological Department (PMD) has forecasted another spell of heavy rain today. While citizens of Karachi still are fearful of the traumatic experience they had to forego this week, the MET office fears, an even more horrific storm will shape up by the end of August. The expected thunderstorm is likely to hit Sindh and Balochistan province this week.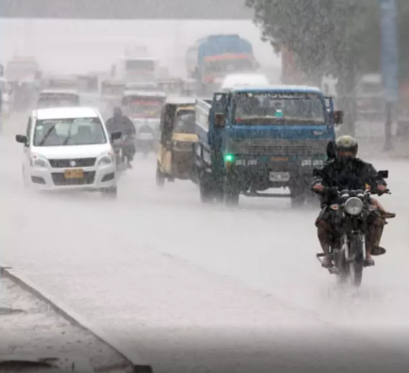 While informing the weather advisory Pakistan Meteorological Department report has said, "The latest spell is likely to enter the two provinces of Sindh and Balochistan tomorrow; hence it will cause rains from Saturday to Monday. During these three days, the cities like Karachi, Thatta, Badin, Sukkur, Hyderabad, Tharparkar, Nagarparkar, Islamkot, and Dadu are likely to suffer from thundershowers, heavy rain, and wind thunderstorm."
We all agree with the fact that rain is a blessing. However, it is crucial to understand that safety is equally as important. We also hope that Sindh government take matters into consideration and look after the poor state of the city.
What do you think of this story? Let us know in the comments section below!