A man in Karachi's Gulberg area was caught for misbehaving with on-duty traffic police officials. The police officers tried to his vehicle over violation of traffic rules. Instead of stopping his vehicle, the man tried to escape by running down the traffic police officials.
One of the traffic police officers even tried to stop him by taking out his car keys. The residents of the area were able to catch the man. Fortunately, none of the traffic police officials got an injury during the incident.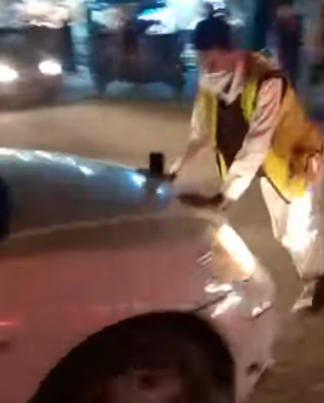 The man than came out of his vehicle. The traffic police did publicly grill him for his behavior.
He was than asked to sit at the back of his car by one of the traffic police officials as he was taken for custody.
Recurring incidents of citizens misbehaving with police officials
The incident of a citizen in Karachi misbehaving with a traffic official is one of the several regularly recurring incidents. A citizen in Karachi was violently beating a traffic inspector when he was asked to not park his car in no-parking.
During the fight, he grabbed the jacket of the traffic police and threw him to the ground. The angry citizen kept saying that his father was a high-ranking officer in Sindh Secretariat.
In a similar incident, a man claiming to be a colonel overpowered a traffic police when they police made an effort to stop him. He also threatened them with his status and power. But, the police took their stand for what's right.
Issues like this illustrate how much influential citizens disrespect public servants. It keeps plaguing our local institutions. As Pakistani citizens, we should demand a strict action against the man to deter the traffic rules and for the supremacy of law.
What do you think of this story? Let us know in the comments section below!