An electrocuted man was found on Thursday in Karachi, where the monsoon rains had created havoc on civic and K-Electric systems. People were stuck in traffic because of flooded roads and streets, and there were power outages for hours.
An incident of electrocution claimed the life of a young man in the Hussainabad area. The body of the deceased was found floating in the rainwater alongside his motorbike.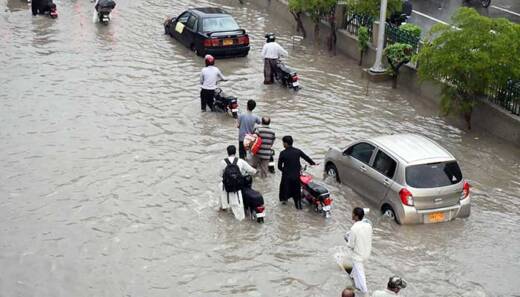 In a video, Syed Zafar Abbas, the General Secretary of Jafaria Disaster Cell (JDC), shared the details of the incident. The deceased identified as Raheel, a resident of Hussainabad. He was reportedly heading towards the hospital, expecting his child's birth.
The father-to-be, unfortunately, became a victim of electrocution on Hussainabad's main food street. "Exactly 10 minutes after he died, his child came into this world and his pregnant wife was admitted to a hospital in the next lane," says Abbas in his video.
"He used to work in a shop in Karimabad here and made Rs15,000," he adds. "He was going to see his wife in the hospital since an hour was left in the birth of his child. But he could not reach his wife or child since he was lying here dead. Why did he die?"
This is the scene of incident
WARNING: Some viewers may find the content of this video disturbing. Viewer discretion is advised.
The social activist requests the current Chief Justice of Pakistan Gulzar Ahmed, Army Chief, and Prime Minister Imran Khan to look into the matter.
Take a look at these videos:
Another death was reported in Karachi on Monday. Police said a 12-year-old boy died in a rain-related incident in the Al-Falah Society. Area SHO Rashid Din said that the boy was riding a bicycle when he got stuck in rainwater near Malir Halt.
He tried to take support of an electric pole in a bid to cross the water. Unfortunately, he suffered an electric shock and died.
The news and social media are filled with images of the chaos in Karachi. In recent years, Karachi has suffered from some of the worst weather conditions experienced in Pakistan. The drought may have abated this year, but severe rains have replaced it, causing severe floods and roadblocks in the city. The streets are filled with water. The roads are deteriorating and authorities are not stepping in to take charge of the situation.
The first monsoon rain hit Karachi on Monday. It caused damage to the civic and power systems. As usual, people also suffered for hours because of flooded roads and power outages.
What do you think of this story? Let us know in the comments section below.