In a shocking incident, a man at the Lucky One shopping mall was left paralyzed after a large billboard collapsed on him during the dust storm in Karachi on Tuesday evening. The police have now registered a case against the mall's administration.
According to the victim, identified as Syed Ashar Shah, he was enjoying a walk after taking lunch when the huge billboard of a shopping mall suddenly fall on him during the dust storm. Shah serves as a salesman at the very mall.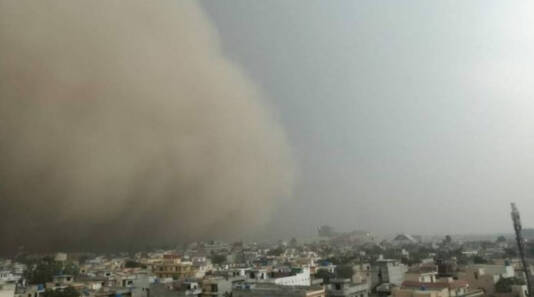 After hearing his screams, passersby rescued him and pulled him from under the billboard. A crowd gathered at the spot after the incident. Unable to walk, the victim said that he was feeling severe pain in his backbone.
Subsequently, he was rushed to a private hospital in Gulshan-e-Iqbal. As per the hospital's initial report, he suffered a fracture in his backbone L-1.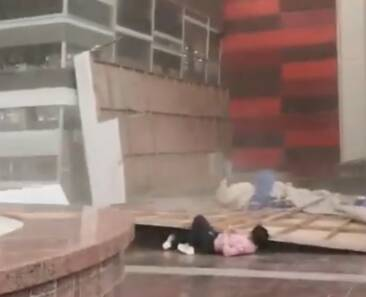 The family of the salesman told the media that Shah was paralyzed after his backbone was damaged. He also sustained injuries in his neck. Sadly, Shah's family is unable to afford his treatment at a good hospital.
Police registered a case against the shopping mall
As of now, the case has been registered against the mall's administration on the complaint of the paralyzed salesman, Shah, at the Federal B Industrial Area police station.
The complainant reportedly stated in the FIR that he worked at one of the shops at the mall and was walking near the mall's main gate on May 18 afternoon when suddenly a signboard installed near the gate fell on him.
Here is the video of the incident
A dust storm followed by light rain hit several parts of Karachi after the city remained in the grips of a severe heat spell for two days. The gusty winds could be seen flying objects around as the dark clouds covered parts of the city.
Soon after the weather conditions changed, residents in some areas reported power outages. The districts in lower Sindh including Karachi had been under the influence of cyclonic storm Tauktae. Moreover, on Monday the mercury rose to 43.5 degrees Celsius in Karachi. At least four people were killed, including a 10-year-old, as multiple areas of Karachi witnessed an unforeseen dust storm.
The Pakistan Meteorological Department on Saturday issued an alert for Cyclone Tauktae, it also predicted rainfall and gusty winds in part of Sindh from May 17 (Monday) to May 20 (Thursday).
In a separate notification, the Met department had also issued a heatwave warning for Karachi from May 16 to May 17.
What do you think of this story? Let us know in the comments section below.