Set by a calm sea, the 14th Karachi Literature Festival came alive at 4 pm today. The festival wrapped Beach Luxury in a warm embrace where artists, literary and political enthusiasts, and poets came together for the inauguration of the event that will continue for the next two days.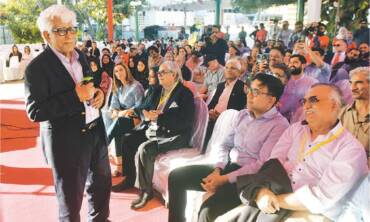 As the managing director of the Oxford University Press, Arshad Saeed Hussain, took to stage and began his eloquent welcome speech, people gathered in the main garden of the hotel to listen. He introduced the aptly chosen theme for this year and addressed how integral education is for nation building.
Dr. Adeeb Rizvi, the Chief Guest for the event continued speaking on this predicament faced by the nation and added that we can truly only have a developed nation if education is paired with basic sustenance for these children living below the poverty line.
His thoughtful insight on the terrible condition of the largest class of the country served as a genuinely heart touching moment in the ceremony, which continued for the next two hours including small speeches by the diplomatic core and by the two key note speakers.
Noor ul Huda Shah and Sherry Rehman's passionate deliveries talked about the plight of those devastated by the floods in Pakistan and what we need to do to become better humans as well as compassionate global citizens.
With time quickly passing by, the sponsors were given the platform to talk to the audience and they gave out the awards for multiple categories that included winners like Kamila Shamsie.
As night fell, the event in the main garden came to a close with a beautifully surreal Khattak performance by Farah Yasmeen Sheikh.
The audience then shifted to the sessions that were taking place in the various halls at the event which also included a special viewing for short films that were made for the DIVVY film festival.
KLF's first day was well-executed, well organized and well thought out. It had book stalls that showcased the authors' works that are being launched at the festival, it had a small section dedicated to the idea of trash management, a food court for the people when they get hungry and sponsor booths where you could get a steaming cup of tea or a picture from the HBL booth featuring the PSL.
The festival will continue for two more days, and is packed with sessions, panels, and book launches including some of the best and most coveted poets and authors of Pakistan and of countries abroad. The event will also include a film screening and a concert by Noori for its attendees.