We are all gearing up for Pakistan Super League (PSL) season 2 that is set to commence from the 9th of February. The stage is set and we're warmed up for our very own cricket league featuring our national team heroes and some of the star-studded names from other international cricket teams.
Teams from major cities of Pakistan will compete in what shall be a great tournament evident of its successful debut last year. Lahore Qalandars, Islamabad United, Karachi Kings, Peshawar Zalmi and Quetta Gladiators, will all lock horns against each other in the tournament.
One of the best teams in PSL, Karachi Kings has built immense hype ahead of the tournament after securing some of the greatest names in present day cricket. The team had its official launch event at National Stadium, Karachi.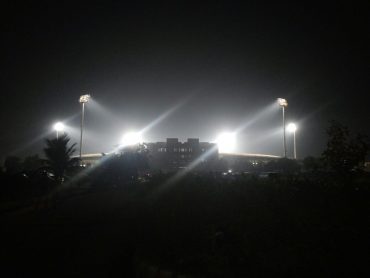 It was a well-spirited evening featuring performances by Shehzad Roy, Komal Rizvi, Fuzon, Shazia Khushk and Asim Azhar. Many credible politicians, government and military officials, and celebrities from Karachi had also joined the event to mark its significance in town.
National Stadium was jam-packed and the atmosphere was electrifying. Fans at the pavilion really played an important role in setting the mood of the evening by their chants and songs for Karachi Kings.
Let's round-up the Karachi Kings launch ceremony with some of the best moments that made it special:
Warm up & opening performance:
It all began with an opening performance that triggered our excitement and it was at that particular moment the crowd realized what we were in for.
Fan's favorite face, Fahad Mustafa hosted the event. He uplifted the spirits of the crowd in his own ways.
After that, Shehzad Roy took the stage and made the evening special with his highly anticipated performance. Shehzad Roy, who holds a credible reputation for his work both in and outside the music industry was cheered by thousands of his fans who kept humming along as he sang.
Karachi Kings owner Salman Iqbal also took the stage and addressed the crowd.
The official squad lined up on the stage for the fans. International players did not obviously join the evening but our national players who are incredibly talented were present.
The first team players were joined by the reserve squad and were presented before the entire crowd of National Stadium to acclaim.
The atmosphere was euphoric
The launch event hosted a mammoth crowd. People from all walks of life had joined in a showdown that was pleasing and enthusiastic enough to get us excited ahead of the tournament.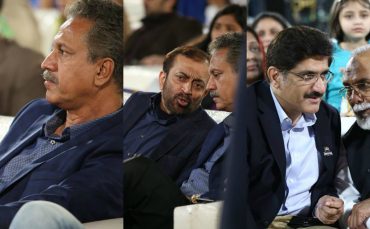 It was a well categorized and managed event in terms of safety and security. Seating arrangements were divided between VVIPs, VIPs and the rest with disciplinary measures making sure the peaceful atmosphere remains intact. A majority of the crowd was sitting back at the pavilion end. Must say, these people played the most major part in setting the mood of the evening with their non-stop chants and cheers. They were an incredible voice which filled the event with energy. Kudos to Karachiites for being high-spirited and making the event a memorable one!
How can you forget Chacha Cricket?
Yes, our very own Chacha Cricket who is famous for not missing any event of cricket that features our national team stars was also present. How could we forget him?
It just couldn't have been complete without him. He is an incredible person for his keen determination in supporting the team regardless of upsets that follow. It was indeed pleasing when we caught a glimpse of him. He took the stage, met and greeted the crowd; it was incredible.
Komal Rizvi's performance
The Karachi Kings team launch event promised to feature our favorite stars performing live. Komal Rizvi's performance was up next and it was definitely well worth the patience.
She stunned the crowd as she took the stage, delivering a staggering performance singing beautiful songs in her incredible voice.
She passionately sang and uttered some good words for the people of Karachi, for their inspiring enthusiasm in supporting their team Karachi Kings.
Fuzon joined the bandwagon of entertaining the crowd
It was delightful to see Fuzon live, the band we have avidly followed for a long time. Fuzon is known to have produced some of the greatest songs out there which graced our childhood.
In fact, Fuzon claimed that they had decided not to sing any song from their previous albums. Fuzon sang some tracks from their upcoming album and teased us with what is up and coming!
Check their performances out:
The atmosphere was in full swing when suddenly the sky lit up in colors
So many colors in our eyes, enchanting hail from the crowd, it was well worth everything!
Mayor Wasim Akhtar joined the stage and delivered a message to all Karachiites
He promised Karachiites that after Lahore, next year's PSL finale will take place in Karachi!
Karachi Kings reached amazing standards in hosting this event. It went beyond our expectations. We kept cheering for our beloved team and its management for hosting such an event in such good standards. You can't help but say, Karachi Karachi Hai Yaar!
We wish Karachi Kings all the best ahead of the tournament. May they outshine the rest and bring the trophy home. We can't contain our excitement and count days until the PSL 2017 officially begins!