Ramadan is a month that teaches us patience and humility. It also inspires us to do more good deeds and to learn how to be compassionate and care for the poor. We often fall prey to the things which are necessary and forgo the true essence of this holy month.
It is refreshing to see when young minds instead of deviating from religious teachings, embrace them as a true act of humanity.
Keeping the essence of Ramadan Alive
Muhammad Waiz Farooqui, a young graduate hailing from Karachi, set out to provide help to the ones who truly needed it and kept the true essence of Ramadan alive.
Prone to help out people in whichever way possible, with whatever resources available to him, this Ramadan he set out to take it one step further and traveled all the way to Dhoronaro, Mir Pur Khas, Sindh in hope to assist the little village area consisting of mere 4000 residents.
A small tribe of farmers, they were in need of one thing that should never become a luxury; clean drinking water.
Dhoronaro women go all the way to Mir Pur Khas for water
The women and children from Dhoronaro had to travel to Mir Pur Khas to fetch drinking water. An alarming distance of 65.5 kilometers with Sindh's unbearably hot summers this for sure isn't an easy feat.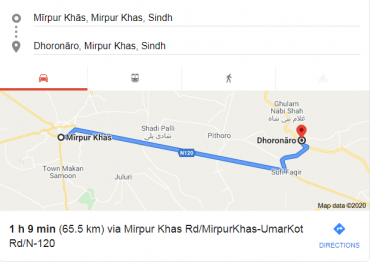 Waiz, who manages his own trust, is known to help underprivileged areas was contacted by a local NGO warning him of the devastating situation of  Dhoronaro.
Waiz got in touch with the residents and upon verifying the claim to be accurate started raising funds to rectify the situation. As Waiz is known to be a legit man for the job he collected enough donations easily to fast track the process.
Upon reaching Dhoronaro he witnessed the unbearable weather which strengthens his will to help these people out in whichever way possible.
Lockdown became an obstacle
Unfortunately, due to COVID-19 lockdown transportation along with laborers were scarce. Even then Waiz remained optimistic and gathered resources from within the village to help out.
The Dhoronaro locals wished to install handpumps to utilize deep groundwater. For this they approached the concerned authorities many times but all requests were made in vain.
With the resources, Waiz brought enough to install 5 Handpumps in the area. The locals helped will all they had: determination, and a will to change their living standards.
Waiz in conversation with Parhlo, said that this village's locals are reserved and conservative. Yet when the ladies saw such an act of pure kindness they approached Waiz to request him for one more thing. Toilets…
No toilets in Dhoronaro
With no proper access to sanitation, these women were left with no choice but to walk all the way into the fields for lavatorial purposes. Waiz committed to providing the best he could offer. He continued his journey back to the city with plans to keep his word to the tribal women.
On the auspicious month of Ramadan, Wiaz along with his team are determined to do all they can to make these women's lives a little easier. You can also play your part and help ease these villagers' issues.
You can help too!
For more information, you can contact Waiz and his team here,
https://www.facebook.com/A-LifeLine-134717410036767/
For donations you can contact Parhlo. Your small donations will provide a lifetime of help to these poor people.
https://www.facebook.com/Parhlo
We commend Wiaz and his team for taking such measures and raising a voice for the underprivileged. May you prosper and succeed with all your endeavors in the future.
What do you think of this story? Let us know in the comments section below.