WARNING: Some viewers may find the content of this story disturbing. Viewer discretion is advised.
In an appalling incident on Tuesday, a boy killed himself after shooting a girl near an intercity bus terminal in Karachi. A CCTV footage shows the ghastly sight where a boy commits suicide after shooting a girl.
The body of the boy was taken to the Civil Hospital for medico-legal formalities. Subsequently, they identified him as 21-year-old Malik Shahzeb, son of Malik Shoaib Awan. On the other hand, the girl identified as a 23-year-old named Tanzila alias Eemaan, daughter of Bin Yamin. She was rushed to Jinnah Postgraduate Medical Centre where doctors are trying to save her life.

A CCTV footage came to the fore shortly after the ghastly incident took place. In the horrifying footage, it could be seen that Shahzaib got out of a rickshaw and shot the girl who was walking towards a white car.
After shooting the girl, The boy waited for a few seconds and then commits suicide with the same pistol. According to SHO Majid Korai, the deceased shot the girl once in her abdomen and twice on her thigh and then shot himself once in his head.
Investigation is underway
As of now, the police are investigating the case. Reportedly, the deceased boy worked at the intercity bus terminal while the girl was a bus hostess.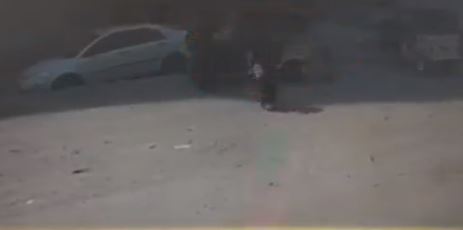 According to the details, the crime scene took place at MA Jinnah Road in Karachi. The police and Rangers reached the crime scene. They collected four empty shells and some live rounds of a 9mm pistol from the crime scene.
These were then sent to the forensic division of the Sindh police for ballistics cross-matching. In addition to this, the police said the incident apparently took place over break up between the two. However, they are still investigating the case from different angles.
WARNING: Some viewers may find the content of this story disturbing. Viewer discretion is advised.
Here is CCTV footage of the incident
Earlier in February, four people including two TikTok stars were shot to death. As per reports, some gunmen opened indiscriminate fire upon a vehicle they were traveling in after filming a TikTok video in Karachi.
The eyewitnesses revealed that the four were shot at by people following their car in a rickshaw. As the car came to a halt, the suspects stepped of the rickshaw. They surrounded the car and fired at the deceased before fleeing the scene.
Read More: Suspicious Man Leaves A Dead Girl At Lahore Hospital & Flees – CCTV Footage Shows Who He Was!
What do you think of this story? Let us know in the comments section below.