On the last day of Karachi Eat 2023, things went out of hand as the massive mob crashed into the event and demolished a peaceful event.
In the beginning, everything was perfectly fine, but later people went crazy and tried to enter without tickets. It was a horrific night for everyone who was there and various attendees shared their experiences.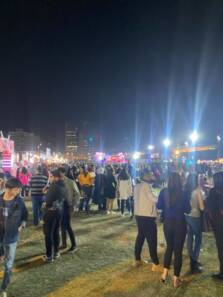 Women and families were harassed. Men groped women and organizers couldn't manage to hold the mob back. Soon the unruly crowd went viral, everyone blamed the organizers for the mismanagement event.
One of the attendees shared, "Young Stunners refused to perform and everything was called off. The management just wrapped everything up. The security was equal to none." He concluded, "It's unfortunate, we have become uncivilized ghosts."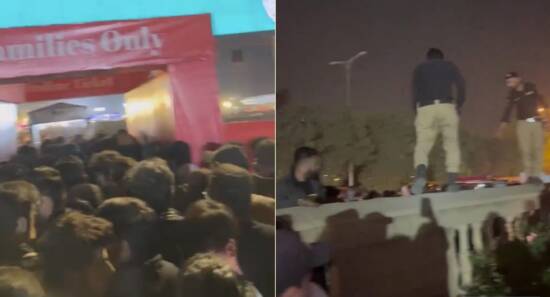 Do you know what made things worst? Instead of controlling the mob, the organizers shut down the light which created more chaos at the scene.
Karachi Eat 2023 Mob Attack
Several witnesses have come forward and expressed their thoughts. A user shared, "Made it out thank god." The female attendee went on to add,
"There were men outside the venue trying to get in to harass women. The police were trying to control them, and suddenly the lights went out and they were all hooting like crazy. Had to climb out of a broken wall to get safely to my car."
Another attendee shared, "Stags broke the gates and forcefully entered Karachi Eat today. People are saying that they had to leave through spaces between walls and jump off them to get out of the chaos. Please ban such events in the city if security can't be managed."
The user further elaborated, "Women in the family section were harassed. Tents were dismantled and to deal with it the management switched off all the lights which made the situation worse."
One user shared further details about how the barricade was broken and men entered to dismantle a peaceful family event.
"There was almost a major stampede yesterday night at Karachi Eat. Barricades were broken. Women were harassed. Stuff was thrown at the performing artists. A 'family only' event turned into an 'All Men' event. Women were told to leave using the emergency exits for their safety."
Such mob attack at the event has been part of Pakistan's events and there's no way any event could end up peacefully. As mentioned Young Stunners refused to perform as they knew such a thing might happen, as they had already faced live harassment when someone threw a shoe at Talha Anjum in Islamabad.
What do you think of the story? Tell us in the comments section below.