Karachi, Pakistan, 26th January: Karachi based startup, Sukoon.com.pk, an online, one stop solution for hiring highly skilled and background verified workers (electricians, plumbers, masons, carpenters and painters), has secured its seed investment, making it the highest valued startup from The Nest i/o and highest valued online repairs company of Pakistan. The round was led by Crescent Ventures as the lead investor, followed by TIE Islamabad Angel Fund and Dotzero Ventures.
This investment is not only the first investment secured by a Pakistani startup in 2016 but also the first investment of its kind by TIE Islamabad Angel Fund and Crescent Group's venture arm, Crescent Ventures.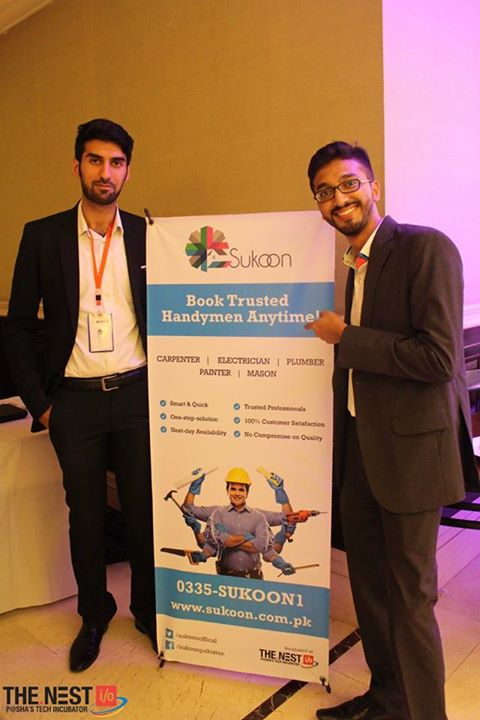 The investment is a co-investment of 3 investors from Karachi, Lahore and Islamabad. The terms of the deal have been kept confidential but according to the company, Yusuf Hussain will be taking a board seat and the investors will have a non-controlling minority stake. It is also important to note that since these investors belong to 3 different cities, they have critically evaluated all noteworthy similar companies working on online home repairs in Pakistan and then decided to invest in Sukoon. This clearly shows the confidence of the investors in Sukoon and also depicts how healthy and closely knitted the tech startup ecosystem in Pakistan is.
Mr Humayun Mazhar, who is also the lead investor, shared his thoughts while signing the deal.
"Sukoon is a project founded by passionate entrepreneurs and offers a compelling and much needed innovative solution for a need in the home and office space i.e. individuals and corporations looking to contract handymen. While doing so, Sukoon also acts as a catalyst for social impact by improving the material well-being of blue-collar workers.We at CresVentures are big on social impact and feel that Sukoon's innovative solution for customers backed by funding, advisory, industry knowhow and mentoring of CresVentures has the potential to be a game changer in the services industry. We look forward to working with this team of talented individuals and have full faith in their potential to completely change the landscape of home and office space in Pakistan and beyond."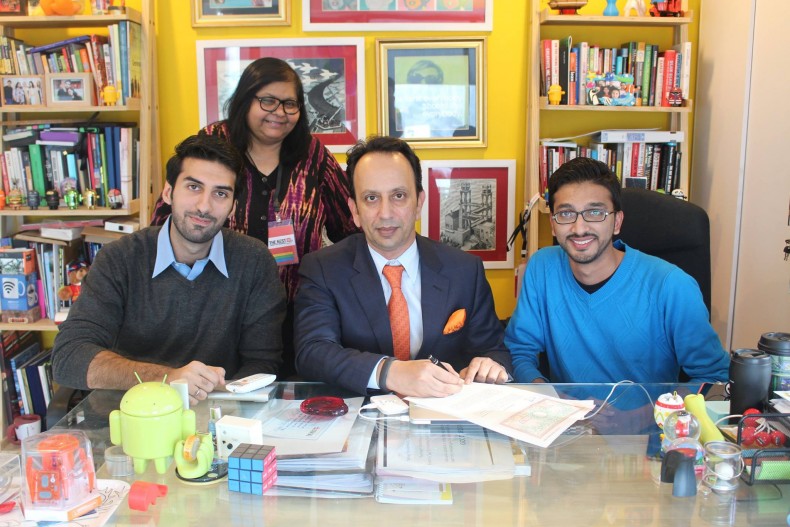 Speaking on this occasion, Mr Yusuf Hussain, Chair TiE Islamabad Angel Fund and Advisor, Crescent Ventures, said:
"We were impressed by the Sukoon team's relentless focus on learning and applying lessons learnt to deliver convenient, dependable and professional home and office services to its customers. If you look at the number of households and offices that struggle with quality repair and maintenance services, you can see there is a huge upside. What makes this deal unique is that it brings together leading and new angel funds from Lahore, Karachi and Islamabad in a spirit of cooperation and risk sharing, which bodes well for the tech startup ecosystem."
The dynamic duo behind Sukoon, Shoaib Iqbal and Qazi Umair, expressed their sentiments over the development and said:
"This investment shows the confidence of the investors in the business model, team and the vision we have for Sukoon. We are unwaveringly confident to change the way home repairs are being done in Pakistan and other similar countries. From the very beginning we have received an overwhelming response from consumers who were longing for such services to be launched in our country. We are very focused on the service delivery and would use the investment in areas that would improve customer satisfaction and lives of our workforce."
Sukoon.com.pk was incubated at The Nest i/o, in its first cycle of incubation. In a statement, Jehan Ara, President of P@SHA and the Big Bird at The Nest i/o said: "One rarely comes across young founders as committed to their cause as Shoaib and Qazi are. During their incubation at The Nest i/o we saw strong qualities of maturity, passion, a deep understanding of their domain and complete focus on their business goals. These are the qualities that will help them to achieve their true potential." The Nest i/o is a technology incubator in Pakistan, a community hub launched by P@SHA with global partners Google for Entrepreneurs and Samsung, and through a supporting grant from the US State Department.