Subsequent to the tragic demise of late Indian actor Sushant Singh Rajput, Kangana Ranaut has been fighting for justice. Since then the actress has been making headlines. Not only has she been vocal about her opinions regarding the death of Rajput but also made sharp statements, calling out several B-Town celebs. Recently, Pakistanis react when Indians told Kangana Ranaut to shift to Pakistan after she made a statement.
From the ongoing investigation of Rajput's case to debates around mental illness and talking about the alleged 'movie mafia' in Bollywood, Ranaut has put the others in the shade with her controversial tweets. It would suffice to say that this woman is unstoppable!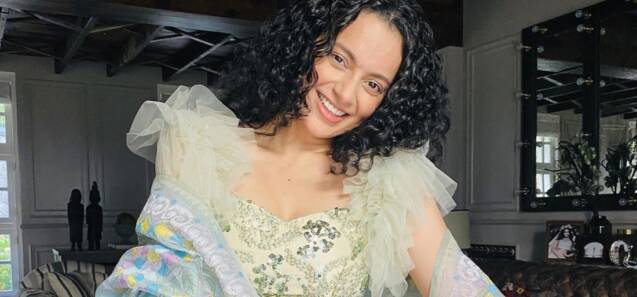 Earlier this month, the Queen actress yet again took over headlines for her retaliation to an Indian politician from the Shiv Sena party, Sanjay Raut's remarks. He asked her not to come back to Mumbai because of her explosive tweets on Mumbai Police's safety.
Today once again, Ranaut targeted Raut and even shared that the city felt like PoK (a term India use for Azad Jammu and Kashmir).
After the actor's controversial comments, people began calling her names and bash her. So much so that a popular hashtag #KanganaPagalHai started trending on Twitter. As it appears, Ranaut has been trending all over on social media for making sharp and unfiltered statements.
The 33-year-old actor calling Mumbai 'PoK' did not go down well with Indians as well as many celebrities on social media. Indians asked Kangana Ranaut to got to Pakistan but Pakistanis react which shows they are not so okay with it.
Soon enough, the #KanganaPagalHai began trending on Twitter. People called on the star to have a filter and mince on her words before tweeting her opinions.
Indians insisting Kangana Ranaut to go to Pakistan
Meanwhile, Pakistanis are like don't even think about it!
Kangana Ranaut hits back
In response to the disrespectful trends, Ranaut shared a tweet saying that all bullies are having a meltdown and cannot come up with anything logical.
Moreover, in another tweet, she spoke about mental illness and how it is being used as a slur against her. She added the 'left gang' along with 'mafia' are participating in this trend and using mental illness to shame her.
In fact, she wrote, "Mental illness is being used as a slur against me, entire left gang along with mafia is enthusiastically participating in #KanganaPagalHai trend, the same way mental illness was used to shame and blackmail Sushant, please don't use mental illness loosely."
Ranaut is not only considered a brilliant performer but she is also one of the most outspoken actresses in Bollywood. Clearly, the actress never shies away from making bold statements and targeting big names of the industry.
Pakistani actor Feroze Khan recently shut the Indian actress down for Pakistan's in her tweets to gain attention. Earlier, Momina Mustehsan and Muneeb Butt slammed Ranaut for promoting 'anti-Pakistan' sentiments.
What do you think of this story? Let us know in the comments section below.