The right-hand batsman and former wicketkeeper Kamran Akmal gears a lot of attention regarding one aspect of his performance – dropping catches. Be it a one-day international or a test series match or in a domestic league, Akmal made it to the headlines all over the cricket world for dropping a countless number of catches.
Despite that, Akmal has proven to be vital for Pakistan cricket team and hopes to make a comeback as well. For now, he is celebrating the addition of the newest family member in the Akmal household.
Alhamdulliah i m blessed with a baby girl again Allah has open the doors of his rehmat again on me feeling blessed ? pic.twitter.com/112L8hFZY2

— Kamran Akmal (@KamiAkmal23) October 10, 2017
Akmal, who has already been blessed with a daughter and a son, recently welcomed a newborn baby girl.
While the internet blessed him and his family with all the best wishes, he was trolled just for the sake of fun. Notice the way Akmal's son Ayyan kept a hand under the newborn. The internet fanatics trolled Akmal and brought his habit of dropping catches frequently.
For Example: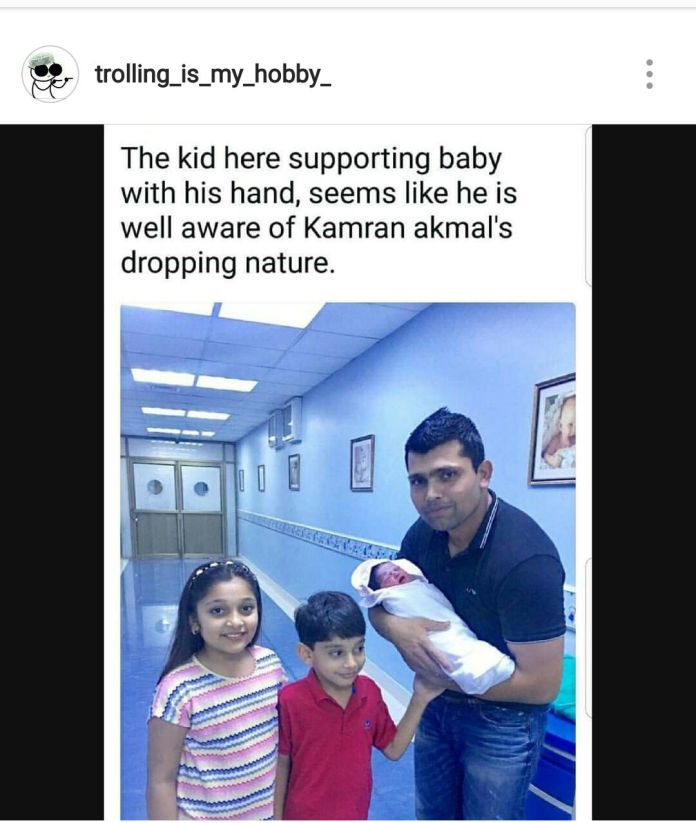 And Then it All Started
Does the kid have his hand under the baby girl just in case Kamran Akmal drops her too? pic.twitter.com/JIklNsCwB6

— Omer (@omerwahaj) October 11, 2017
LOLOLOLOL
The kid here supporting baby with his hand, seems like he is well aware of Kamran akmal's dropping nature. pic.twitter.com/upmvzebd0x

— Waleed Nasir (@waleednasir00) October 10, 2017
? Even Kamran Akmal's son knows that the former Pakistan wicket-keeper loves a drop or two. pic.twitter.com/0uJtZHMlVk

— Sportingbet SA (@SportingbetSA) October 11, 2017
Oops, Haha!
His Son Making sure he Holds the baby if Kami Drops him … -'_'- pic.twitter.com/Dt0T4mHAgk

— Taimoor Zaman (@taimoorze) October 10, 2017
Pakistani Actor and Comedian Yasir Hussain also Trolled Akmal By Making a Comment
All jokes aside, during such a happy moment, remember to keep blessing someone with all the best wishes, especially when they are welcoming a new life on this earth. While the majority were busy trolling, well-wishers also made his day special for him.
@KamiAkmal23 congratulations allah bless her and the family ? pic.twitter.com/sluNXSaM8R

— Fahad Mustafa (@fahadmustafa26) October 11, 2017
Congratulations @KamiAkmal23 🙂 https://t.co/AUTzRmFCfl

— CPL T20 (@CPL) October 10, 2017
Congratulations @KamiAkmal23 , Lucky you , Blessings ?

— Ihtisham ul Haq (@iihtishamm) October 10, 2017
Wishing Kamran Akmal all the best for his future and may Allah grant his daughter with ultimate success in her life, Ameen!