Kailash Satyarthi – India's Abdul Sattar Edhi
Irony has taken its toll on the current Indo Pak political scenario. While Pakistani and Indian soldiers are exchanging fire over questioned territory, two individuals from the same nations have been mutually honored the Nobel Peace Prize for the year 2014. Both Kailash Satyarthi and Malala Yousafzai were awarded for their dogged battles against youth's rights. Malala battled for the learning and education of female children while Kailash Satyarthi took up bludgeons to secure children and youth from physical and mental abuse. Malala – the child rights activist from Pakistan went under global glare for fighting against Taliban, yet her Indian counterpart stayed hidden in the sphere of obscurity by silently pursuing a fight to ensure the protection of the interests of those children who confronted the risk of being abused.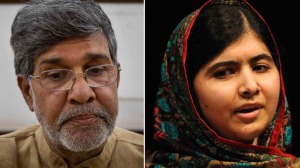 Hailing from Vidisha region of Madhya Pradesh, Kailash Satyarthi left his job of electrical engineering in order to fight for the rights of children. Kailash Satyarthi was just 26 years old at that time. In 1983, he made an association by the name 'Bachpan Bachao Andolan' (Save the Childhood Movement), in New Delhi to discourage child labor. Kailash Satyarthi confronted unfavorable chances in this attempt. Nonetheless, his endeavors in the end paid off as he helped salvage a large number of kids from subjugation, human trafficking and exploitative child labor. Presently, at 60 years of age, he proceeds with his cause as he knows the mission is not yet accomplished.
Collaborating with various NGOs and activists, Kailash Satyarthi has effectively led numerous raids on manufacturing plants and storehouses where kids were compelled to work. Kailash Satyarthi is the one behind 'Rugmark', a scheme affirming that child labor is not at all included in the creation of those rugs and mats which are sold abroad. The activity ended up being an enormous achievement in raising universal awareness about children's rights. But, this was just the start of his extreme however sublime voyage ahead.
During his schooldays, seeing kids of his age acting as workers as opposed to going to class left a permanent stamp on Kailash Satyarthi. He comprehended the reality that the parents of those kids couldn't afford to provide their children a formal education. So he initiated a football club, and with the participation charges of the club, Kailash Satyarthi managed to pay the school expenses of poor kids. Moreover, it also happened that he and a companion gathered donation of about 2,000 textbooks in one single day. The project then eventually (unintentionally) turned into a book bank in the place where he grew up.
His work was not restricted to India. In the year 1998, Kailash Satyarthi, the winner of Nobel  prize became the chairman of a worldwide walk against child labor which passed through above 60 nations. Children liberated from forced labor in Asia, Africa and Latin America were part of this march. There were more than 1,000 individuals who finished the walk in Geneva, at a gathering of the International Labor Organization (ILO). After a year, the ILO signed an accord to ensure protection of children from jobs which expose them to health risks or any form of abuse.
Hidden form everybody, Kailash Satyarthi has been leading a child rights movement for the past three decades. The Nobel Peace Prize winner also looks after their training and putting an end to child trafficking and forced work. Kailash Satyarthi's New Delhi-based association has been at the forefront of the battle against child work/ labor by making awareness among both home based and universal manufacturers. A month ago, in the light of a grumbling documented by his association in a Delhi court, the Central government was compelled to put in place regulations for the protection of domestic workers who are frequently physically and sexually abused.
As the news of Kailash Satyarthi being honored with the Nobel Peace Prize broke out, blissful celebrations resulted at his office in a south Delhi neighborhood. Kailash Satyarthi is cheerful that the issue of children rights has at last gained worldwide consideration, yet he says that the battle needs to proceed till each and every child is free from the endless loop of abuse and forced labor.