Canadian pop star and famous Justin Bieber was out of showbiz. On Friday he disclosed something very serious happened to him and left everyone speechless. Justin Bieber earned endless fame at the age of 13 with his popular songs like Baby and Believe.
He has two Grammy wins among 22 nominations, including a record and song of the year nods this year for 'Peaches'.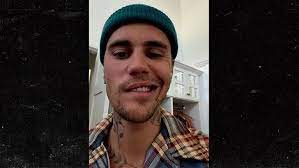 Yesterday he revealed that he was diagnosed with a virus that left half of his face paralyzed and forced him to cancel some of his upcoming performances to focus on recovery.
It's heartbreaking to see him like this and this news spread all over the internet like a fire.
Justin Bieber's face half-paralyzed
Justin Bieber took the whole situation to his official Instagram where he posted a video of himself telling the world about his current condition and what exactly happened to him.
He even demonstrated that he can barely move one side of his face, calling the ailment "pretty serious." He captioned it, "IMPORTANT PLEASE WATCH. I love you guys and keep me in your prayers."
"For those frustrated by my cancellations of the next shows, I'm just physically, obviously not capable of doing them," he said in the video, adding, "My body's telling me I've got to slow down. I hope you guys understand."
He showed how one of his eyes wasn't blinking and said, "I can't smile on this side of my face. This nostril will not move. So there's full paralysis on this side of my face."
The Peaches singer said he was doing facial exercises and taking time to rest and relax and get back to 100% so "I can do what I was born to do."
He didn't disclose any timeline of his recovery yet, it's the third time his tour has been postponed and the last two happened due to the heavy pandemic rise.
Justin Bieber one of those pop stars who was invited to perform at the opening ceremony of PSL 2017 edition.
What do you think of the story? Tell us in the comments section below.