Muhammad Raza Ali, son of Anwar Ali of Parachinar (now Peshawar), fire and killed his wife Bushra and the father seriously injured his daughter Saima Ali and son Danyal Abbas.
According to the eldest daughter of her parents, Saima who is 22 or 23 years old, her father was short-tempered and a drug addict. In addition, their grandfather had disowned him for his unjustified anger and bad habits. The culprit is reportedly a police constable. The cowardly father fire his wife, son, and daughter.
"He had beaten us and our mother since our childhood. He had also stop my university fees and my brother's fees," the daughter added. "Now we were living in a separate house with our mother for almost one year. Our mother was doing Job and everything was going good."
"On Saturday 3rd July 2021 at about 9:30 pm, he came to our home and had an altercation with my mother and us." He shot her brother Danyal with a pistol and critically injured him, Saima said. As she tried to rescue her brother and stop her father, he opened fire with a pistol on her as well. After suffering a severe injury, she fell. He then fired a pistol at her mother.
Saima's two aunties and their children were also present in our home at that time. They and her younger sister and brother were hidden in the rooms and washrooms. Following that, her father fled in his car. The neighbors came and took them to the hospital. Unfortunately, her mother died from her wounds while Saima and her brother suffered serious injuries.
The accused is at large since two week
On the day of the incident, the affected family filed a case against the accused at the Michni Gate Police Station Warsak Road Peshawar. They demand the arrest of the murderer from IG KPK, CCPO Peshawar, SSP Investigation, SP investigation, and the Investigation Officer of the case. Two weeks have passed and the accused is still on the loose.
In addition to this, they demand to immediately block his CNIC and passport and his name to be added to the PNIL List. Taking to Twitter, Saima also addressed the tragedy as she shared some graphic pictures of the injuries.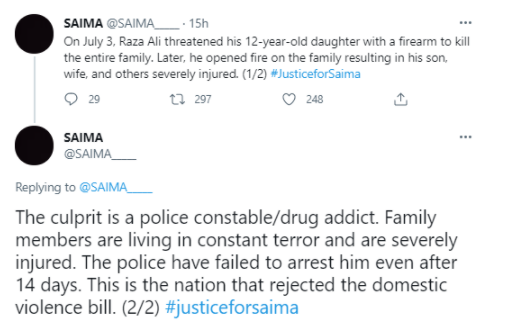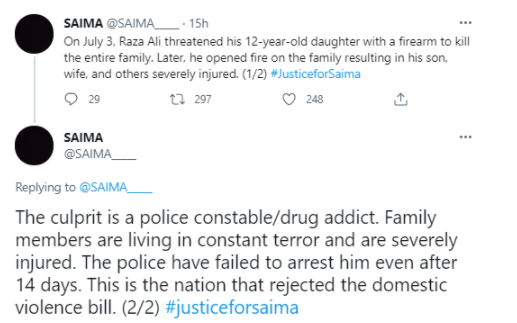 In another heart-wrenching incident, Qurat-ul-Ain Baloch, the mother of four children, was allegedly murdered by her husband Umer Khalid Memon after being brutally tortured. The police initially refused to register a case against the accused due to his influential family background. Pakistanis demand justice for Saima and Qurat-ul-Ain Baloch.
In the latest developments on Qurat-ul-Ain Baloch's case, her daughter exposed her abusive father. Moreover, videos and images of him with another woman emerged.
What do you think of this story? Let us know in the comments section below.