Junaid Jamshed, once a renowned singer and currently a fashion designer and religious scholar has just been attacked at Islamabad Airport by a few religious fanatics. Jamshed who has been in the news particularly after a blasphemy case was registered against him back in December 2014. This was done on the basis of one of his televised sermons that was thought to contain blasphemous remarks against the wife of Holy Prophet (PBUH).
Source: Facebook
This time around, Jamshed while coming out of Islamabad airport on late Saturday night was surrounded by few religious fanatics who started shouting that Jamshed is a "Gustaakh-e-Rasool".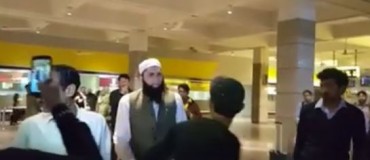 Source:- Facebook (Video Screenshot)
Despite of the case registered against Jamshed, Jamshed had apologized for his remarks through a video message. It is also important to mention that our religion orders us to abide by the laws of the land we are live in.