The #MeToo movement has taken the world by storm and it is no shocker how the Pakistani society, sooner than later, is finally turning a new leaf towards this movement. It is evident it will take a lot of time, perhaps years to come, to recondition our society's mindset towards admitting that such things do exist and yes, men do exploit their power and their status.
The worldwide movement has allowed women to come forward and lately a lot of it is happening in India – following sexual harassment allegations made on AIB comedians, Varun Grover, Nana Patekarr and various more names.
Pakistani Women Are Coming Forward and Are Calling Out Junaid Akram for Sexual Harassment
It all started when journalist Rabia Anum Obaid shared the following tweet:
So Several Young Girls are speaking out against the Sexual harassment attempts by a Known Social media Guy and a Comedian. He not only lied to a dozen girls but now also pressurising them to stay quiet. Some of the girls have reached out to me for help.
Kya karna chahye?

— Rabia Anum Obaid (@RabiaAnumm) October 9, 2018
And People Were Quick to Guess Who She Was Talking About
Mainly because according to many, these and various other individuals were a target of Junaid Akram.
Adding to this. Almost every girl has proofs against him but they are too scared to go public because "Log Kya kahengay"

— Rabia Anum Obaid (@RabiaAnumm) October 9, 2018
And Everyone Knew What Was Happening!
The fact that Junaid Akram has been quite about this and hasn't posted anything on social media tells you all you need to know. He's usually very active on snapchat but hasn't been since yesterday. If these rumors were baseless he would've continued on with his life.

— Asad (@mesuturbation) October 10, 2018
She is talking about Junaid Akram. About time we name and shame people, parosi mulk se kuch seekh len hum yahan. https://t.co/E3ZZlbmlrZ

— Sidra Aziz (@NamkeenJalebi) October 9, 2018
People Spoke Against Junaid Akram In April 2018 As Well
junaid akram was exposed back in april too wese but it got lost in all the other stories

— Faizan. (@merabichrayaar) October 9, 2018
But No One Paid Attention to his Allegations Then
Does it ever boil your blood when you see people destroy the character of women who come forward with their sexual harassment stories but these famous men (Junaid Akram etc) are exposed time and again and nothing concrete ever happens and life goes on normally for them?

— Faisal (@OneAndOnlyCFC) October 9, 2018
Among All the Allegations, According to those Sharing Stories, It Was Revealed that Junaid Akram Is a Married Man
And chose to hid his marriage on purpose while hinting on women that he is single. A girl claims that Akram did not harass her, but hid his marital status. After the two went on a couple of dates, Akram apologized to this girl when she would out about his relationship status: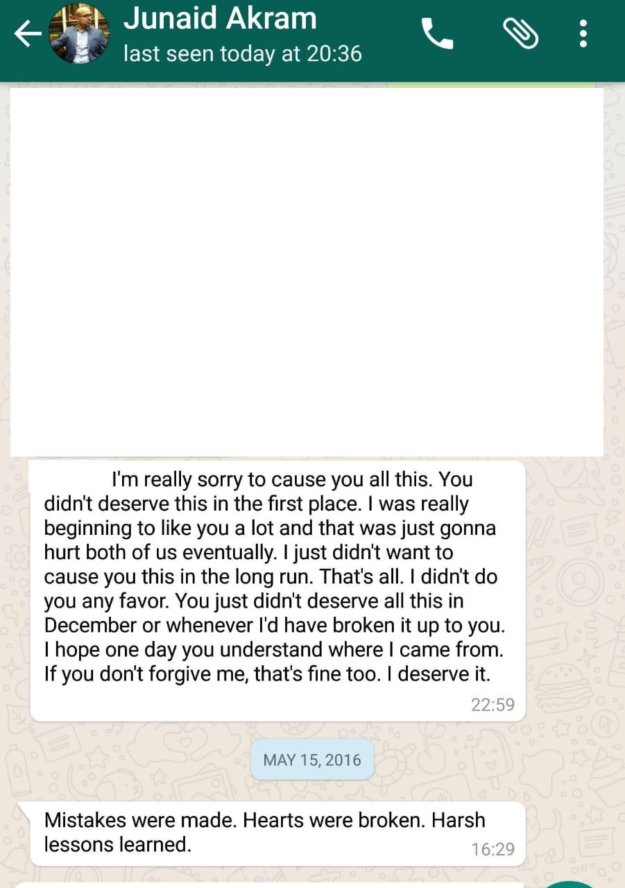 Another Girl Came Forward and Shared that Junaid Akram Threatened her If She Came Forward With Everything that Happened
"I'm scared to come out in public from my real profile because he has threatened me multiple times." The girl added that he has misbehaved with her on multiple occasions and forced himself on her. "He also hides that he has a wife and plays it safe as such conversations only happen on Snapchat. I later found out about her who is a divorcee. He is the step-father to her two children,"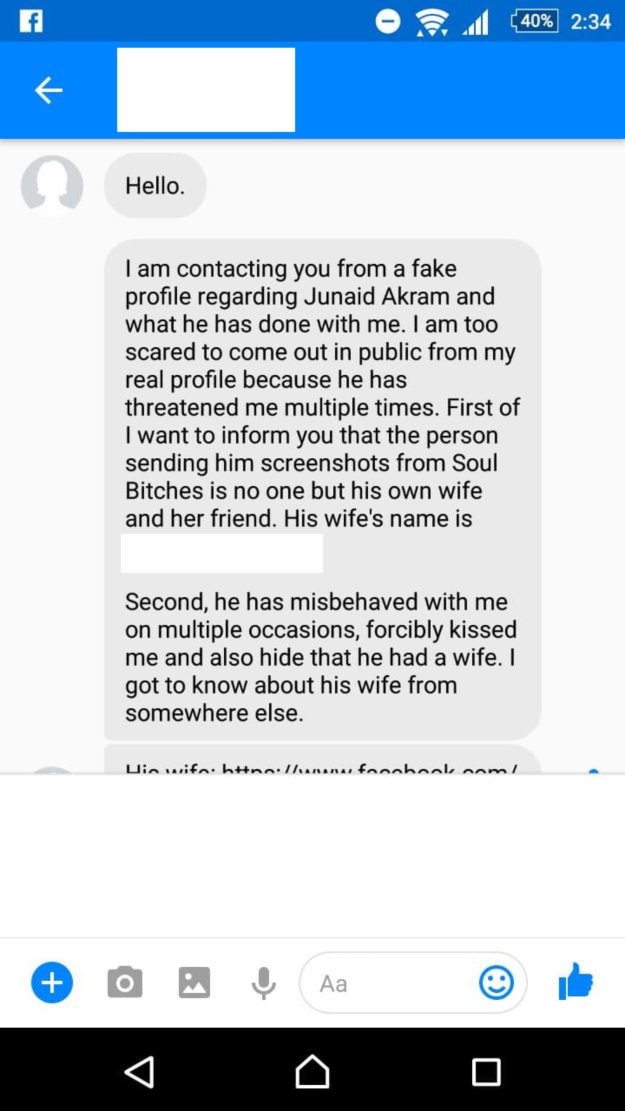 For a day or two, while people were speaking against Junaid Akram, the comedian did not appear on social media.
However, In Two Tweets, Junaid Akram Denied All the Claims of Sexual Harassment Made on the Internet
The comedian cleared that all the allegations are false and that his legal team is on to it.
Dear All, I have come across some distressing tweets/posts on social media disparaging/defaming me and my name. I would like to state categorically that the assertions made in such tweets are absolutely false, and that I intend to pursue my legal remedies so as to protect myself

— Puffin Man (@junaidakram83) October 11, 2018
In relation to this, I have already met my legal team, and the wheels have already been set in motion to bring to book those who are trying to hurt me and people associated with me. God bless.

— Puffin Man (@junaidakram83) October 11, 2018
In a society where it is always the woman who gets thrashed, let's hope we allow someone to come forward without any fear and find out the real story.
Read Also: Pakistan's Newest Sensation who is taking over YouTube