Maulana Fazal-ur-Rehman, also famously known as Maulana Diesel has been giving several threats to the incumbent government ever since Imran Khan took over the office. Maulana and his party's staunch opposition has led to their decision to have a mass level anti-government rally, that has been in the pipeline for some time and was scheduled to take place on October the 27th in Islamabad. "Our economy is in tatters and the government has become a puppet of foreign powers," Maulana said.
Among his various threats included him demanding the government to step down in August and now he has warned them to not interfere in the 'Azadi March' planned by his party and followers. If the state does create obstacles for them, Maulana has warned that he will shut down the entire country. This particular threat didn't cause much commotion in the media rooms and live telecasts; however, Maulana did become a subject of entertainment.
Furthermore, a fake copy of instructions pertaining to the dharna has supposedly released by the Jamiat Ulema-e-Islam that has gone viral over social media. Why?
Point number six indicates that if the leader of a group allows, the men can indulge in sexual activity within themselves.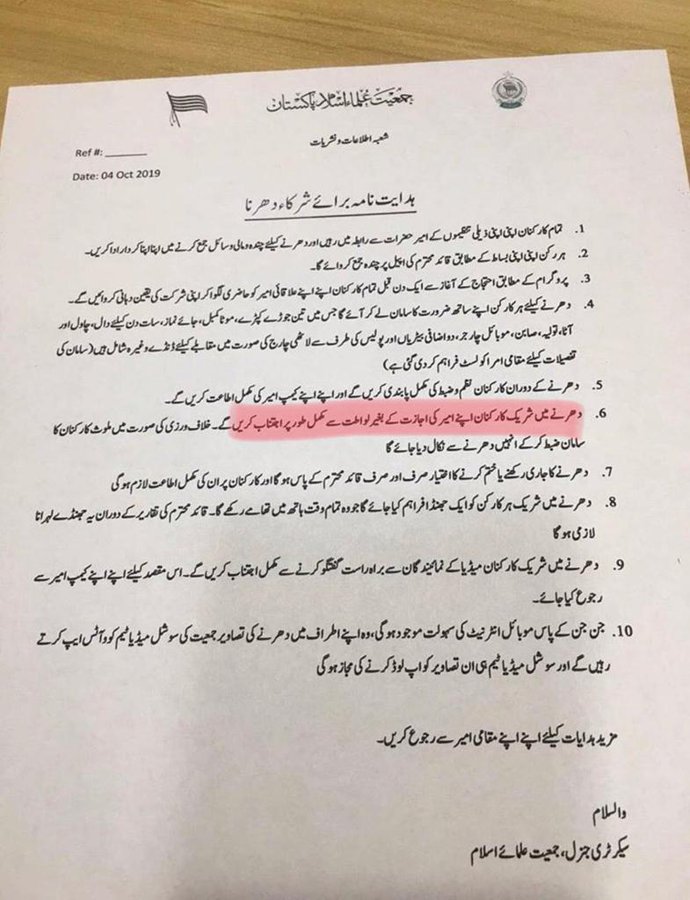 Although people quickly caught on to the fact that this is possibly an agenda against the party or just a bad joke, but it gave people something to laugh about. The tweets quickly took a turn to adult humor and Pakistan's Federal Minister for Science and Technology, Fawad Chaudhry didn't stay behind.
چھ نمبر ہدائیت سے تو لگ رھا ہے دھرنا اہمسٹرڈیم یا سان فرانسسکو کی پنک موومنٹ کا دھرنا ہے:) کمال ہی ارادے ہیں۔ pic.twitter.com/XhrqDvdp59

— Ch Fawad Hussain (@fawadchaudhry) October 6, 2019
A direct explanation of what point number six means.
I can't believe my eyes. According to point number six Maulana Fazal Ur Rehman have told his followers who are being prepared to attack Islamabad may have sex with each other subject to the permission from their squad leader. #شق_نمبر6 pic.twitter.com/rb0mtX1gL0

— S A R F A R A Z (@ImSarfrazAbbasi) October 6, 2019
Some are still confused and expressed their shock over the blatant promotion of homosexuality by an Islamic political party.
I knew that's common in many madrassa…but didn't know it was allowed by their teachers #شق_نمبر6

— peace (@zeejee5) October 7, 2019
Majority resort to trolling.
Dharna safety measures. Moulana is also running business by selling items#شق_نمبر6 pic.twitter.com/LGH1QeKyob

— Ahsan (@ModernManto) October 7, 2019
Since PPP supported Fazlur Rehman and his party's narratives except for their anti-state rallies, many related point six on the instructions with Bilawal Bhutto!
Bilawal bhutto after reading point no 6 😂#شق_نمبر6 pic.twitter.com/k2TKEJZPho

— Syed Aoun (@AounMehdi20) October 7, 2019
Fazlur Rehman's opposers take this opportunity to speak against him.
Fazlu is no Maulana. He is a satan disguised as an Islamic preacher/Maulana#NationStandsWithMaulana#شق_نمبر6 pic.twitter.com/dMODyQxQJc

— Foxtort_Khan🇵🇰 (@iam_Khan6) October 7, 2019
The pictures are pretty explanatory of what is asked of the protestors.
One point agenda. 😆#شق_نمبر6 pic.twitter.com/t5SZANGxUS

— The Exception💧 (@_TheException_) October 7, 2019
That's one way to place it.
Follow instruction number 6, control your emotions, unless the party leadership allows using shampoo or anything else, you may need to shower with Maulana. #NationStandsWithMaulana#شق_نمبر6 pic.twitter.com/7JAB2hILQE

— Wasid Yousafzai (@Wasid007) October 7, 2019
This colossal mistake or entirely fake document had everyone engaged on Twitter to the point that the hashtag #شق_نمبر6 started trending on the second spot. Many are still perplexed and confused as to whether to pass it as a mistake or consider the possibility of it being an actual legitimate section among other rules. The religious clerics do not bear a great reputation in Pakistan.
Keeping in mind that the majority of the madrassa teachers have molested, sexually abused and tormented their minor students, it would be no surprise that everyone would take a cynical approach point number 6 instead of instantly disregarding it as fake.
PM Imran isn't worried about a candidate that only secured 2% of the votes and has bigger and important problems to tackle.
Have anything to add to this story? Comment below!