The economy and times might be tough in Pakistan right now, however, there seems to be more light than what meets the eye at the end of this tunnel. Some banks and investment companies in Pakistan are providing a 'relief-package' of sorts for the common man, which will not only help you invest but make huge savings on taxes as well.
For your betterment, and how you can save money, let us explain the process of how this is possible.
What exactly is a Mutual Fund?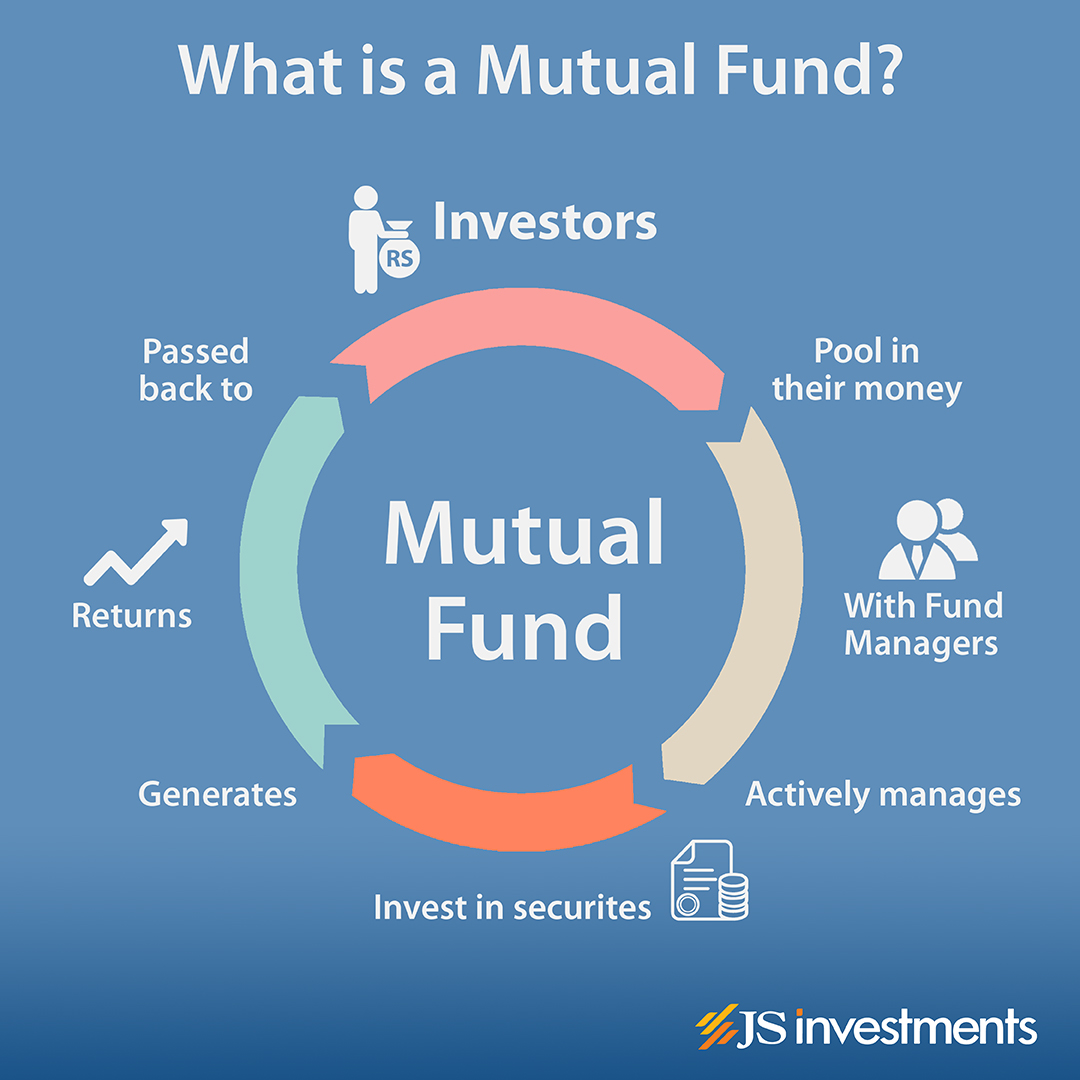 A Mutual Fund is a pool of money collected from many customers for the purposes of investing in stocks (equities), bonds, government securities or bank deposits etc. There are different types of mutual funds that allow various investment strategies. Investment  Advisors are trained professionals who help customers choose the mutual fund that suits the customer's investment needs. The units of the mutual fund can be bought or sold when the customer wants, so for example, even if a fund is invested in a 10-year bond, the customer does not remain 'tied' to the fund for any given fixed period.
So basically, a mutual fund is a financial product that savvy investors use to conveniently invest and earn profits.
Why it is important for you to invest in Mutual Funds And Voluntary Pension Scheme!
Making smart investment decisions is very important for you to have a secure financial future. You can build your savings by regularly investing in Mutual Funds. The profits generated by Mutual Funds help your savings grow over time. Your Mutual Fund investments can help you achieve life goals such as buying a car, buying a house, paying for your child's university education or wedding.
Voluntary Pension Schemes (VPS) are special products designed to help you save for your post-retirement life. If you want a comfortable and financially secure post-retirement life, you should open a VPS account with JS investments, and start investing a small amount every month. Over time, your savings will grow, and will be paid back to you as monthly pension after you retire
How you can save BIG on your taxes through investment in Mutual Funds and Voluntary Pension Scheme (VPS)!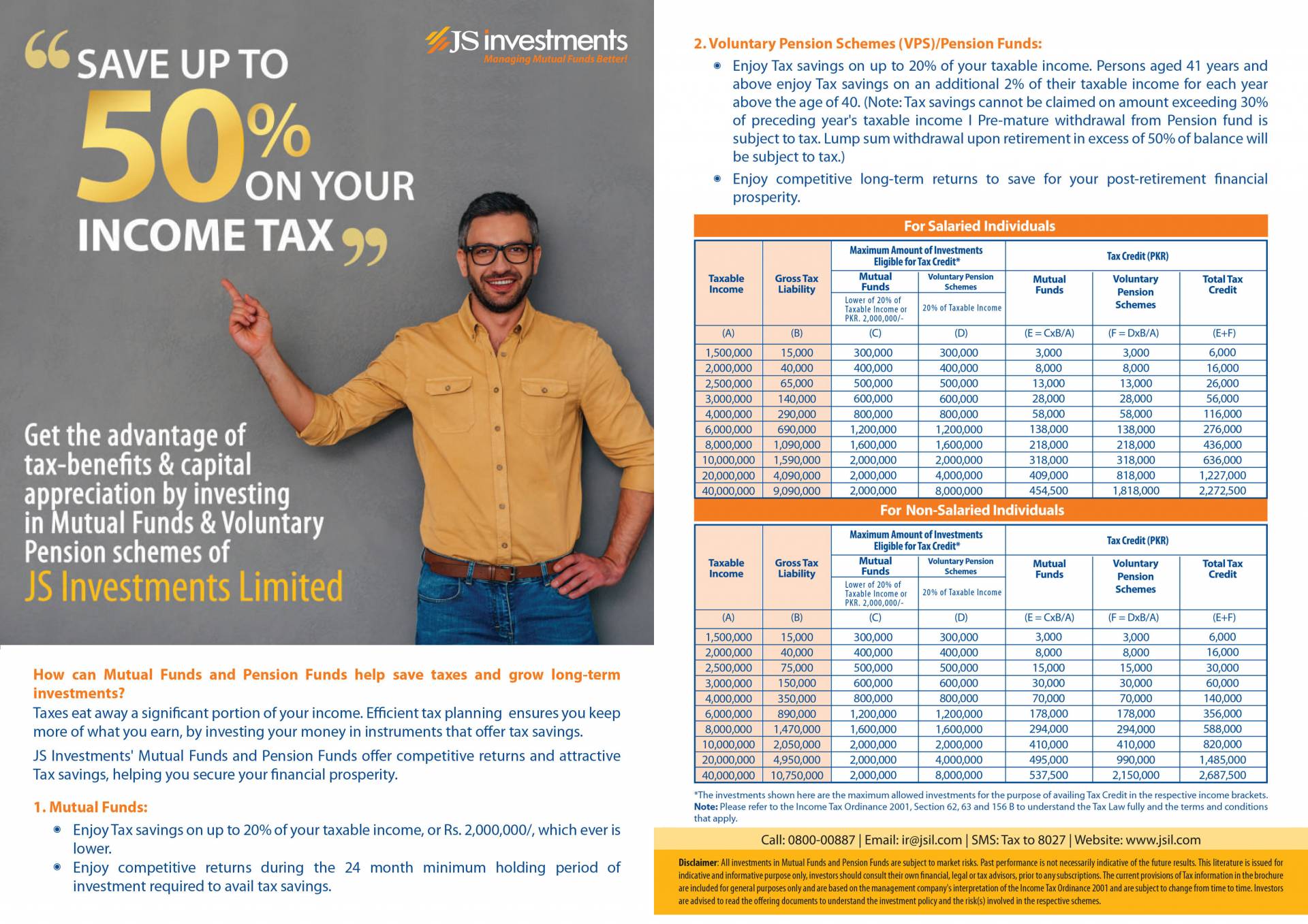 Whatever you earn throughout the year, taxes eat up a huge chunk of it. However, with proper tax planning – you can reduce your income tax, through investing your money into 'instruments' that offer significant tax saving. The JS Investments' Mutual Fund and Pension Fund offer attractive returns and tax savings, which in the long run, help you secure your financial future.
Saving via Mutual Fund: With JS Investment's mutual funds, you can reduce your annual income tax by up to 20%*
Saving via Pension Funds: Through the Voluntary Pension Scheme (VPS), you can reduce your annual income tax by 30%*.
What is the process to invest in JS' Mutual Fund?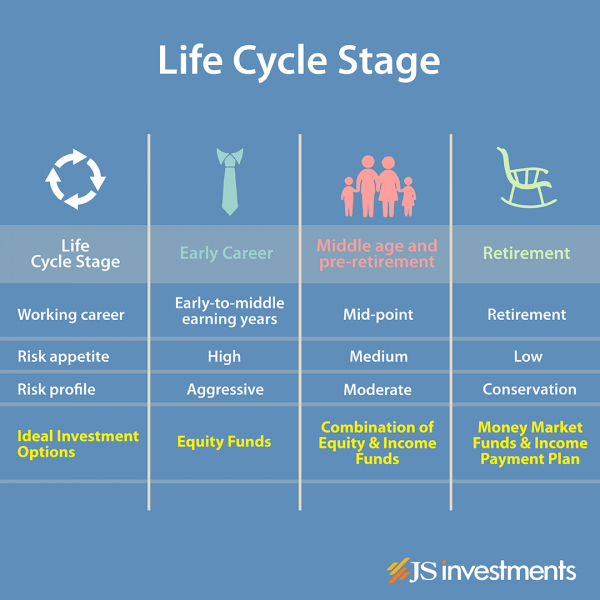 The Account Opening application forms are very easy to fill, easier than a bank account form. All you need to do is provide your CNIC number and Know Your Customer (KYC) information, and that's basically it! You can call the JS Investments' helpline on 0800-008-87, arrange a meeting with their salesperson or you can meet them at their office.
The first investment should be done in person, face to face, after which the online portal or mobile app can be utilized to manage your investments. The prices/profits of Mutual Funds and VPS are announced on a daily basis and an e-statement is issued for every transaction. So the process is as transparent as it can be.
Disclaimer: please note that the Tax Savings are in accordance with the "Income Tax Ordinance of Pakistan"