The royal wedding takes place as Jordan crown prince marries a Saudi architect in a lavish style.
On Thursday the wedding ceremony took place in a palace ceremony attended by royals and other VIPs from around the world.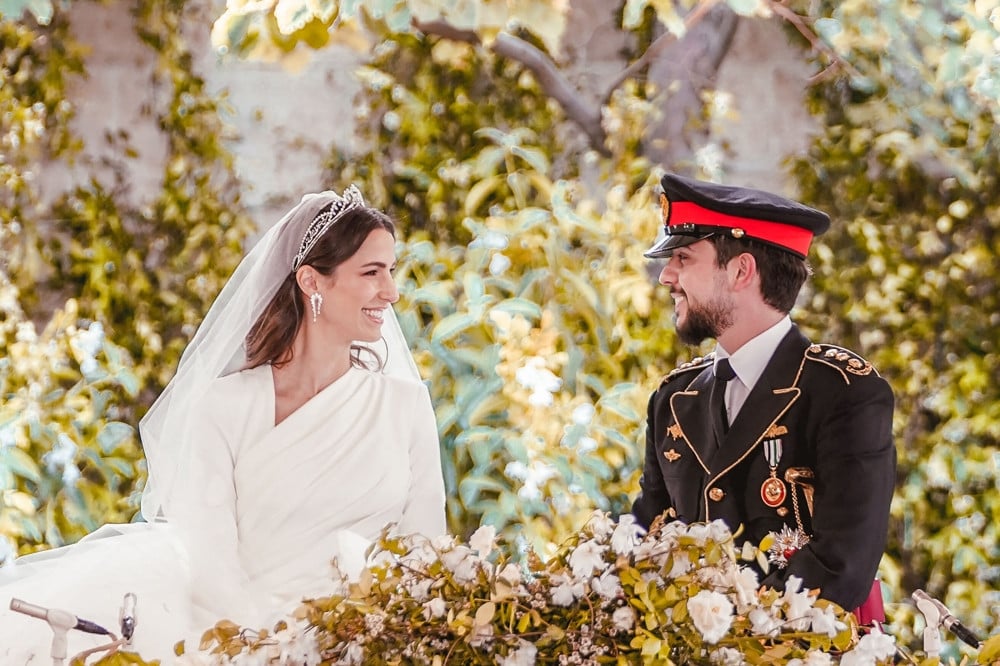 People gathered all around the palace to celebrate the newly royal young couple. Crown Prince Hussein, 28, and Saudi architect Rajwa Alseif, 29's wedding wasn't just a royal wedding.
It's considered one of the star-studded ones because a lot of celebrities and other high-profile figures attended the wedding.
Jordan Crown Prince Marries Saudi Architect
The ceremony holds a certain charm with the continuity in an Arab state prized for its longstanding stability and for refreshing the monarchy's image after a palace feud.
The bride wore her family's traditional dress, an elegant white dress by Lebanese designer Elie Saab, and arrived at Zahran Palace in a 1968 Rolls-Royce Phantom V custom-made for the crown prince's late great-grandmother.
On the other hand, Prince arrived in full military uniform with a gold-hilted saber. The wedding kept the Muslim tradition called "katb al-ketab." The crowd went crazy when the couple signed the marriage papers and received large applause from their people.
The wedding became a highlighting news when famous figures arrived such as Britain's Prince William and his wife Kate, as well as US First Lady Jill Biden.
Apart from them, other notable figures are the Netherlands' King Willem-Alexander and Queen Maxima, as well as Belgium's King Philippe and Crown Princess Elisabeth and Danish Crown Prince Frederik and Crown Princess Mary.
Jordan & Saudi Relationship
Noura Al Sudairi, an aunt of the bride, was wearing sweatpants and sneakers on her way to breakfast. "We are all so excited, so happy about this union," she said. "Of course, it's a beautiful thing for our families, and the relationship between Jordan and Saudi Arabia."
"She looks like such a princess that I think she deserves him," Suhair Afaneh, a 37-year-old businesswoman, said of the bride, lingering in front of a portrait of Hussein in a dark suit. "But so what, I'll still be in love with him."
Ali Hussein wrote, "Grateful for all the precious memories we share and overjoyed to see you celebrate your wedding today… I wish you, dear Iman and Jameel, a lifetime of blessings and happiness together."
Royal weddings have always been lavish and captivating for the people. Back in 2021, Japan's princess gave up her royalty for her sweetheart and that became a big headline as well.
What do you think of the story? Tell us in the comments section below.