Since last week, farmers across India have shut down the country's shops, transport, shops, and markets. They are protesting against a recent law that they say is against their interests. Their national strike has choked entire India.
Indian Prime Minister Narendra Modi passed the new agricultural laws in September 2020. He said the law would reform an archaic and outdated system.
Modi said that it would provide farmers more control over their crop prices. But farmers across India were unhappy with this decision. As a result, they began protesting as there was no consultation with them. They believe that these laws will jeopardize their livelihoods.
As a result, thousands of farmers, mainly from Punjab and Haryana, have blocked all roads into the capital Delhi.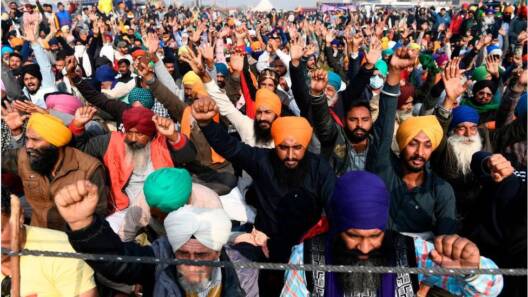 They have now called for a shutdown of shops, in a effort to pressurize the government into repealing new agriculture laws.
Sikhs feel sorry for supporting Hindu ideology in 1947
Due to the anti-minority policies of the right-wing Modi-led BJP government, Sikhs in India are now vocal about their support for Quaid-e-Azam Muhammad Ali Jinnah.
Sikhs are now admitting that they were wrong to oppose Quaid-e-Azam and his demand for Pakistan. A tweet by an Indian Sikh Damanjeet Sigh is a proof of that.
"I think Jinnah was right," tweeted Damanjeet Sigh.
It is essential to note that most of the farmers are Sikhs. As a result, they are subjected to such harsh treatment by the Modi government due to being a religious minority.
The protesting farmers have been harshly dealt by authorities who have resorted to teargas shelling and intense baton charge wounding at least hundreds of farmers.
Netizens worldwide supporting Sikhs farmers' protest against Modi
A photograph of an Indian policeman swinging his baton at an elderly Sikh man has become the defining image of the ongoing farmers' protest in India.
Social media users across different parts of the world are now voicing their support for farmers in India.
It is to be noted that #Jinnah and #IndiaShutDown have been the trop trends on social media in Pakistan with thousands of people retweeting in support for Sikhs and farmers.
Some Indian also told the Sikh man to go to Pakistan. How on earth one can say this to a fellowcountryman?
It is evident that the fascist Indian government is leading the country towards a completely dark era. Many Indians are unhappy with how Modi's government is imposing its authority on the citizens.
We are truly thankful to Jinnah for giving us Pakistan, as a country to live in freely. PM Imran Khan has always been vocal about how Modi's Hindutva ideology is promoting extremism in India. Also in his UN Speech, he has talked about India's goals and his RSS backed ideology.
What do you think of this story? Let us know in the comments section below!