He goes by the name Jeremy McLellan. Muslims love him. Right-wingers hate him. Trump supporters want to kill him. And now he just made many Karachiites cry.
He has over 100,000 followers on Facebook. People cannot stop sharing his Facebook statuses. Every post by Jeremy McLellan never fails to put a smile on your face. He is a stand-up comedian who has shot himself high in the political drama as well and the only prospect he revolves around is Comedy. Now he is all set to arrive in Pakistan and has different shows running in Lahore and Islamabad respectively. But this might disappoint many Karachiites since he has no plans to visit Karachi.
He shared what Karachiites had to say about him only coming to Lahore and Islamabad and joining his followers there. He tells when people of Karachi acquired him if he is coming to their city, he said "no", because he can only spare time for Lahore and Islamabad. And you can expect it would have disappointed any Karachiite. Even finding it out in the first place was disappointing for me. Anyway, this guy shared how typically people reacted and it's absolutely GOLD.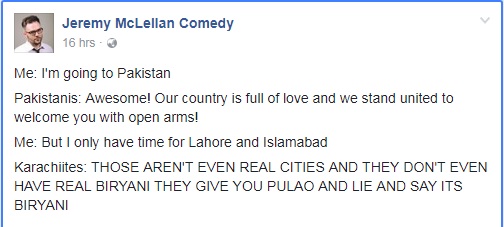 But, but, it's true that Lahore and Islamabad absolutely have no sense of Biryani. It's actually Pilao what is sold in those cities. Bet Jeremy is up for a huge disappointment when he eats the biryani there – see I am being a typical Karachiite myself. Unapologetically.
That's not it folks! He also shared more about how some Karachiites magically scrambled towards criticism just when they heard he is not coming to Karachi.

Oh, Karachi walay… It's fine if he is not coming here. It's still amazing that this guy who is loved by so many people in Pakistan is coming to our country. We would love to host him and it is safe to mention that Pakistanis are in for some quality show when he takes the stage! So gear up, Pakistanis! Join Jeremy when he is in town.