OMG! Someone is looking stunning and hot in that gorgeous Lehenga. Jennifer Aniston's manish Malhotra lehenga breaks silence of all the fans by seeing their pictures in Murder Mystery 2 tralier.
Yes! In the recent trailer of jennifer aniston latest movie Mystery Murder 2, Jennifer Aniston was spotted wearing a beautiful choli designed by the Indian Designing God Manish Malhotra and that became everyone's attraction.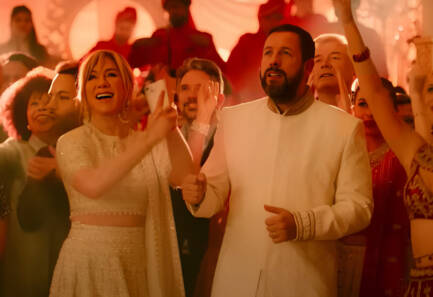 Not just because it's designed by Manish, but also how beautiful Jennifer is looking in that attire and she's overpowering it.
The way she's caring for the whole outfit surely deserves the credit and even Manish couldn't hold himself from sharing the moment on his Instagram.
Jennifer Aniston's Manish Malhotra Lehenga:
Jennifer Aniston is one of the most popular actresses in the Hollywood industry who gained fame from the famous TV Show 'friends' and since then she's been nailing in the industry.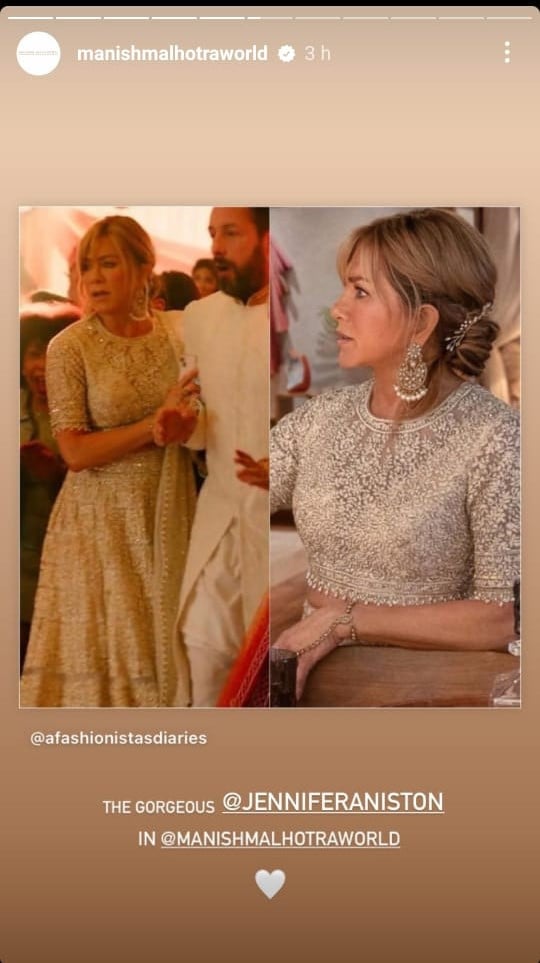 Taking to Instagram, Malhotra shared a picture of the Hollywood star clad in a custom-made gorgeous lehenga, which was heavily embroidered with sequences on top. "The gorgeous Jennifer Aniston in Manish Malhotra!" penned the couturier.
Soon after the outfit images circulated all over social media, her fans also jumped in and praised the actress with classy compliments. They expressed their undivided excitement over the surprising collaboration on Twitter.
Fan's Reacting To Jennifer Aniston's Lehenga
"Jennifer Aniston and Manish Malhotra's collaboration was not something I was expecting to see today!" said one user.
Another Indian fan posted a screenshot of the apparel. "Jennifer Aniston wearing Manish Malhotra!" wrote the tweep, adding a heart emoji at the end.
In the trailer of Murder Mystery 2, you get to see a couple of detectives Nick and Audrey Spitz, played by Adam Sandler, and Aniston back in action.
Last year, a Friends reunion happened and after that, there were rumors about Jennifer dating David Schwimmer. But later she cleared the air by stating that he's my brother.
What do you think of the story? Tell us in the comments section below.