The World Intellectual Property Organization (WIPO), a specialized agency of the United Nations, recognized Jazz, Pakistan's leading digital operator, as a top innovator in the Global Innovation Index 2023.
Jazz's ability to adapt to the evolving needs of its customers in the digital era is shown by this recognition.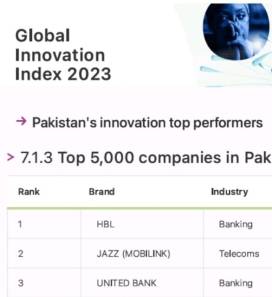 "Innovating for customer's means expecting their needs and meeting. This is what sets us apart and propels us forward in this highly competitive market. This approach is also displayed in Jazz's transformation from a telecom company to a leading digital operator offering experiences for every minute of the day, from FinTech to chat, entertainment to cloud service, also signifies this approach," shared Amir Ibrahim, CEO of Jazz.
In addition, Jazz's ranking in the Global Innovation Index 2023 affirms its commitment to delivering innovative solutions that meet the ever-changing demands of its customers.