Disclaimer*: The articles shared under 'Your Voice' section are sent to us by contributors and we neither confirm nor deny the authenticity of any facts stated below. Parhlo will not be liable for any false, inaccurate, inappropriate or incomplete information presented on the website. Read our disclaimer.
I got the chance of spending this Independence Day with children in National Institute Child Health (NICH) and future doctors of SMC. The enthusiasm and energy was at its peak. Though hospitals are supposed to be a quite place but national anthems and patriotic ballads were blasting on full volume on the speakers. Everybody was jubilant.
We started our tour of NICH to give away gifts and celebrate the "Azaadi" spirit but one doesn't fail to notice the disheveled and abhorring condition of the building. As we ascended the floors the conditions got dismal. Children with infectious diseases and malnutrition conditions cried with pain and fatigue.
Indeed the conditions were enough to give me a shiver down the spine. It would had been very gloomy if I wouldn't see those doctors, nurses and young future doctors working real hard to brighten up ghastly state of affairs in those children's life.
These future doctors are actually the members of a student body and a registered NGO by the name of Patients Helping Hands, studying in Jinnah Sindh Medical College. While I was calling them young doctors, one of the members timidly rectified that they are not yet doctors, but students. I couldn't help but smile and tell her that for me they are already as respectful as qualified doctors as they are making all possible efforts to save precious lives.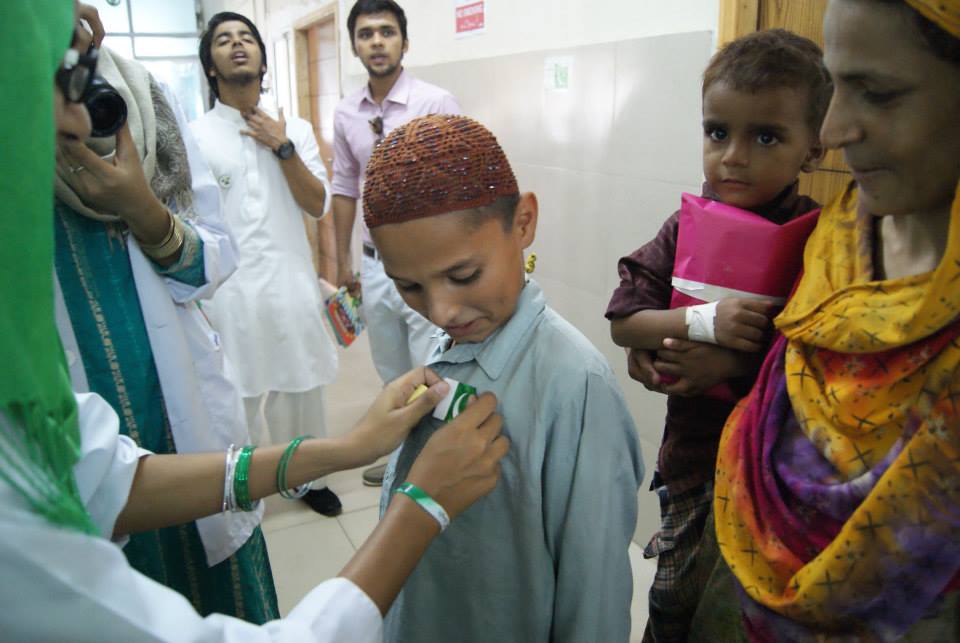 What is PHH?
Patients Helping Hands or PHH is a non-political, non-sectarian, non-governmental organization run by the students of Sindh Medical College, in Karachi. PHH aims to lessen the financial burden associated with treatment from the patients that are treated in:
The Jinnah Postgraduate Medical Centre(JPMC)
The National Institute of Cardiovascular Diseases(NICVD) and
The National Institute of Child Health(NICH).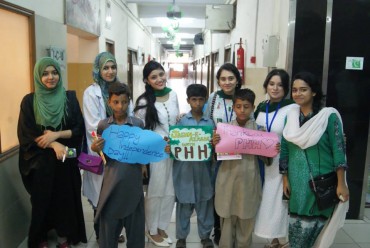 As we all know JPMC, NICVD and NICH are government hospitals where the treatments are free of cost, a high influx of patients turn up here from not just Karachi but from Sindh and rest of Pakistan as well.
How PHH is contributing?
PHH has been working tirelessly on several projects in the above mentioned three hospitals. Their journey started with the first Project NICH which was a first ever drug bank for the hospital where life saving drugs and other disposable were and are provided free of costs.
Other projects such as establishment of High Dependency Unit in ward 26, Intensive Care Unit in Medicine ward 7 and Intensive Care Unit in Surgical Ward 3. Other than these, PHH has also established a Drug Bank in the Obstetrics Department for the laboring mothers. I believe there lies a responsibility on all of us as a Pakistani and also as a human being that we promote such individuals and organizations who work for betterment of society. PHH is doing a tremendous job and they need our help to keep doing the amazing job. Their upcoming projects and the ongoing projects need your funding to keep providing the help to the patients of Jinnah.