Best known for her Bollywood lip syncs, slow-motion transformations, and a whole host of parodies and comedic content, Jannat Mirza's rise to fame was rapid. The viral sensation Mirza just slammed Waqar Zaka for making offensive remarks about the TikTokers. We suggest you grab some popcorns!
Recently, Zaka made a reaction video on the TikTok clips of famous TikTok stars. VJ-turned-television host passed some strong judgments and made offensive remarks about many TikTokers, including the viral sensation Mirza.
In order to school the social media celebrity aka Zaka, Mirza took it to her Instagram and slammed the former VJ. While referring to his obscene remarks, Mirza called him 'uncle jee', and slammed him badly.
Not only did she call him a hypocrite, but she also called him out for his own vulgar and obscene content for the sake of sorry views and ratings. For real though, all he is known for is his vulgarity, on what basis can he even judge others?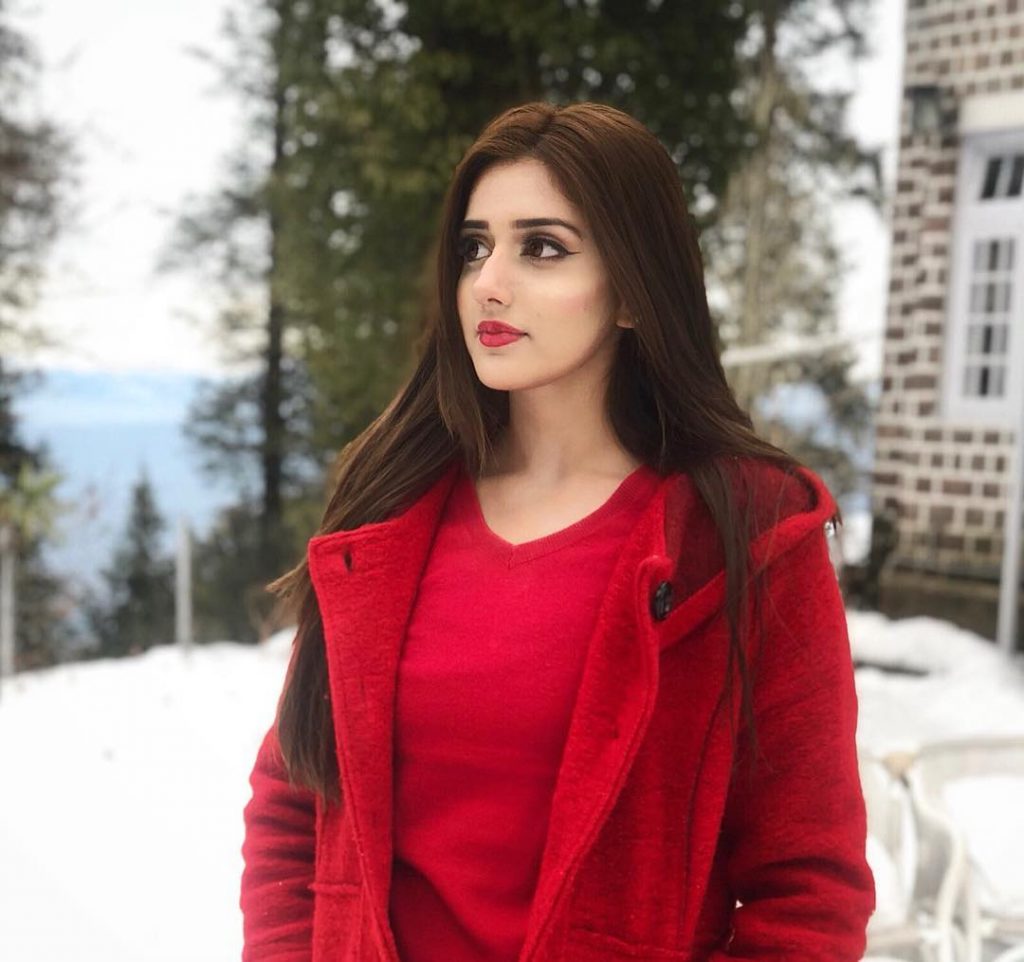 According to Zaka, these TikTokers are apparently feeding filth to the minds of the youth. However, Mirza highlighted the irony in her story and pointed out how he is the one to say that. The TikTok star attacked Zaka, and refuted by highlighting his own vulgar live video calls, the dares he give, his snapchat stories, and whatnot!
Mirza, who recently became the top Pakistani TikTok star with 10 million followers schooled the so-called activist Zaka. In addition to this, by referring to him as 'uncle' she asked him to remove his vulgar videos from YouTube first and then judge others.
Here's what Jannat Mirza posted on her Instagram story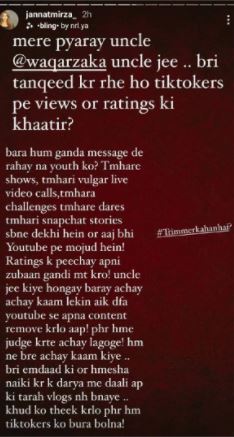 Well, Zaka had it coming! It is no news that he does the same things TikTokers do for rating and publicity. So what right does he have to mock or rebuke the TikToker stars? In addition to this, the rife began when Zaka earlier this week played few TikTok videos and passed comments on it which made Mirza upset.
Mirza is widely famous for his TikTok videos. Her influence grew rapidly as a result of her knack for producing entertaining content for her audience. And soon, the industry professionals were reaching out to her with modeling and acting contracts.
Earlier, after Pakistan Telecommunication Authority (PTA)'s ban on TikTok in Pakistan, netizens started trolling Jannat Mirza as she reached 10M followers just two days before the viral Chinese video-sharing app got banned.
What do you think of this story? Let us know in the comments section below.