Long gone are the days where everyone from nearby houses or friends would gather around in the evening for chit chat and share their worries away; receiving sincere advice and solutions. Now, it's the era of cutting-edge technology where you have communities online, in the form of groups; particularly on one of the biggest social media platforms – Facebook.
You can easily find one that coincides with your interest and request to join. One such group is called 'Soul Brothers Pakistan' that as the name suggests is a men-only group. A renown Pakistani filmmaker Jami heavily criticized this group; calling it 'toxic'. Furthermore, he declared it 'the shittiest group of men'. 
Jami in a Facebook Post calls out 'Soul Brothers Pakistan' for being toxic; receives support.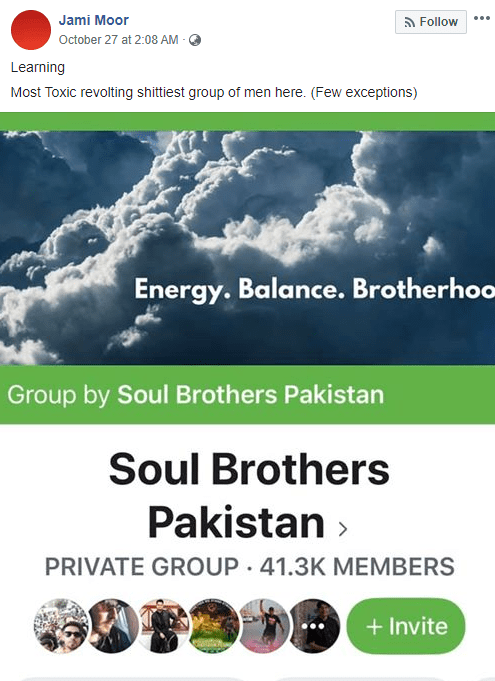 Although Jami didn't clarify his bold statement against the most popular Pakistani men-only group on Facebook. But many under the comments came supporting his claim; agreeing to the fact that it is indeed a negative online space. Moreover, hinting that most of the men that are its participants are toxic and full of 'jahaalat'.
This person was booted out of the group for voicing his opinion about the members. To this, Jami commented 'lucky'. 

Another left it quite sometime back, as it was an embarrassing place to be. 

For anyone who was wondering how bad it could have been for all these men to speak against this group. Here's the potential answer; patriarchal, conservative and regressive. 

One lad mentioned how this forum actually makes him embarrassed for being a man. While another stated that whoever is mildly educated would stay clear of it and he has it on mute.
Jami Moor's statement has left room for speculation. Apart from the obvious assumption, keeping the comments in check that 'Soul Brothers Pakistan' is made of men that aren't necessarily the most supportive or positive. However, there's also a looming possibility that Jami received a certain backlash from his own gender in this group on his recent big confession about being raped by a big media personality.
He opened up about that scarring incident that changed his life in support of the #MeToo movement. Nonetheless, the true reason behind Jami calling out this private group remains unknown. It is great to see what Jami has achieved in his life despite struggling to cope with his pain and trauma.
Do you agree with Jami on Soul Brother Pakistan being a toxic online space? Let us know in the comment section below!