Jahangir Tareen Khan holds a prominent position in Pakistan Tehreek-i-Insaaf. While his role in PTI is very crucial, he was recently disqualified by the Supreme Court. The Supreme Court bench found the secretary general of PTI dishonest under the Article 62 of the Constitution and Section 99 of the ROPA, which led to multiple counts against him. Conclusively, Tareen was denied the opportunity to hold office as MNA.
However, while Tareen cannot be a part of the National Assembly, he still remains involved in the political dealings of PTI, the stronghold party in the National Assembly.
Without the need of colliding with another political party, PTI is currently getting independent candidates on board to fill the seats.  And for this job, Jahangir Tareen Khan is THE man!
As one of the wealthiest leaders of PTI, Tareen surely knows his way around negotiation skills and the man is doing his job pretty well.
Tareen Is Doing All It Takes to Get Independent Candidates And the Internet Is Loving It!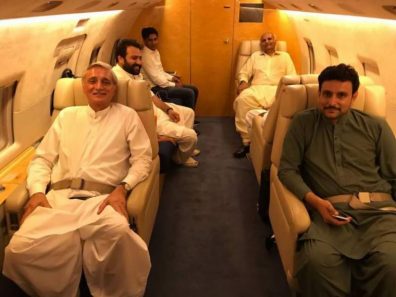 I Mean, Look at This
#PTI takes 2 more wickets from Punjab :: Independent candidate from Narowal PP-46 Pir Syed Sair-Ul-Hassan & Independent candidate from Rawalpindi PP-7 Raja Sagheer joins caravaan of Kaptaan & will support PTI candidate for CM slot in Punjab Assembly; GAME OVER for PMLN ! pic.twitter.com/9yehsl9MYf

— PTI (@PTIofficial) July 29, 2018
And They've Received their Results As Well
With mew members joining #PTI Alhamdolillah, it now has 132 members in the Punjab Assembly, the highest from any party.
The game is over for PMLN. pic.twitter.com/HVAyIKvnel

— PTI (@PTIofficial) July 29, 2018
And Look at the Response of Pakistanis Over How Tareen Has Managed to Lure Independent Candidates!
LOOOOL
https://twitter.com/YahoodiSaazish/status/1023656425527156736
HAHAHAHA
Jehangir Tareen & Independent Candidates – Vol. 2 pic.twitter.com/eRwnyHUXXf

— Saad Amjad (@SaadAmjad_) July 29, 2018
Goals?
I want someone to support me the way Jehangir Tareen supports Imran Khan.

— Amna Cheema (@amnacheema55) July 28, 2018
Goals As Well…?
I just want to have as much money as Jehangir Tareen.

— Jibby (@JibbyD) July 29, 2018
We ALL Are!
I am truly impressed by Jehangir Tareen's negotiation skills. Man has got some talent.

— Sidra Aziz (@NamkeenJalebi) July 29, 2018
Pretty Solid
Jehangir Tareen is to IK
What Mike is to Harvey.#PerfectTeam pic.twitter.com/RYpZUCpBsG

— Khanzada (@KhanzadaTweets) July 29, 2018
We just keep loving how creative and talented Pakistanis are when it comes making such amazing memes. Jahangir Tareen Khan, you have done the job well for Imran Khan and PTI and these memes are the response of it!