Mohsin Naveed Ranjha outdoes itself as a brand with their latest formals collection, Jahaan Zaad.
The conceptualization of the concept is unique and traditionally rooted which gives the pieces an even more attractive aura. Jahaan Zaad, in other words, is a fashionable feast for the eyes and the mind.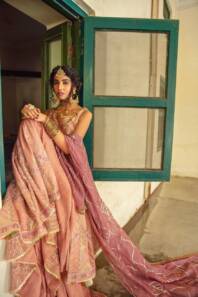 The Philosophy Behind The Collection
The collection pays homage to the life and what lies at its core— love. Its vision is manifested in such a way that Jahaan Zaad compels us to confront reality.
It shakes us to our core to remind us of what matters most and what must be celebrated, treasured and cherished dearly. Among these things is a sense of contentment, a celebration of one's culture and life, and most importantly, embracing the longing one feels for a lover.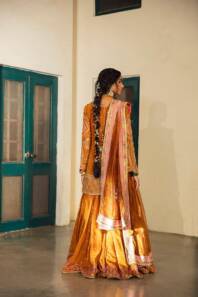 Jahaan Zaad is for the person who wishes to chase their dreams and create a better, purer life for themselves.
What is fascinating about this collection is how this ideology is made a part of the collection through poetry and prose. MNR's latest collection comes with poetry written for it especially which elucidates us not only on its own beauty, but also on what inspired it.
Jahaan Zaad Poetry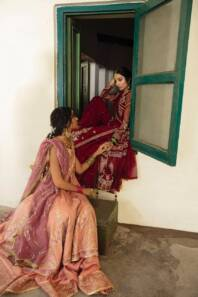 As aforementioned, the collection is also an intellectual treat. Romantic poetry constitutes one of the core intellectual cultural elements in Pakistan.
Thus, the poetry penned by Arsalan Abbaas for Jahaan Zaad hits home. The words have a melody of their own as they inspire the reader to rid themselves of pretense, melancholia, and limitations. The words inspire the reader to embrace life for all that it blesses us with and to cherish beauty to let it grow many folds.
About The Collection
The A/W '21 collection is in essence a formal collection. It features multiple outfits all of which are named beautifully and carry a spirit that distinguishes them from the rest. The said outfits are created with a color palette fit for festivities of all kinds; think the signature MNR mustard, plum, soot, and Fuschia among others.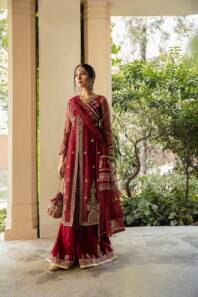 All of them have a varying silhouette which makes this collection inclusive for all those women who want to find something particular for their body type.
The collection is also special because the outfits are incredibly versatile: they are perfect for intimate to large and lavish gatherings. Moreover, they can make you look spectacular as a guest and even as the host— it's all about how you own it and style it.
Fabrics like raw silk, cotton net, organza all come together in gorgeous hues and embellishments to create pieces that are timeless. Those who are interested in fashion or appreciate the art of apparel know that at the core of an outfit is the fabric.
MNR's Jahaan Zaad thus features only the most premium fabrics fit for festive occasions. Complementing their panache is MNR Design Studio's signature craftsmanship featuring gota which makes these outfits nothing less of heirlooms.
What do you think of the story? Tell us in the comments section below.