The 17-hour armed siege at Martin Place in Sydney finally ended leaving two hostages and a gunman dead when police stormed in the Lindt café to rescue the hostages. The siege left four people injured before it ended with the frenzy shootout in the early hours of Tuesday. Man Haron Monis, 50 year old man who took the hostages and killed two of them died in hospital after the prolonged confrontation with the authorities. Monis is regarded as an ISIS agent who belonged from an extremist and radicalized Islamic background.  Australian Prime Minister, Tony Abbott, described Monis as mentally unstable person whose psychotic actions were cloaked with symbolism of the ISIS death cult.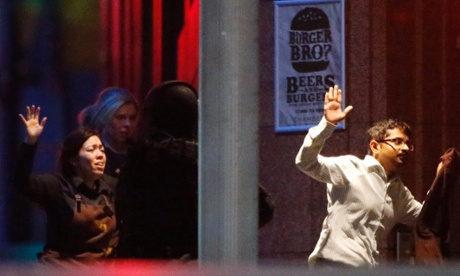 Since the siege ended, thousands of Muslims residing in Australia came under pressure and were reluctant to go out fearing the reaction from the natives. Even the Prime Minister's speech blaming Monis as having link to ISIS and nothing to do with peaceful Muslims did not do much to abate the fear of Australian Muslims. The fear was conspicuous in streets of Sydney that people wearing Islamic apparel could be harassed, it was amazing to see that Australian locals have been showing solidarity to them on social media forums. Most of the locals used Twitter to offer to travel along with them. While the hostages were still in danger, and central Sydney locked down, the natives moved to social media forums to convey message of harmony and tolerance. One of the Australian women initiated the solidarity message that soon soared into a complete social media campaign to show that Australians stood along with their fellow Muslim citizens of the city.
Tessa Kum, a TV Anchor said she tweeted right after she saw a tweet of her colleague Michale James and soon whole twitter was filled with the solidarity tweets towards Muslims and the sight was such a soothing one.
This, this is what good people do. #sydneyseige #MartinPlace pic.twitter.com/zxbHLWzxEp

— Michael James (@MichaelJames_TV) December 15, 2014
  She then tweeted offering any of her Muslim colleagues ride to home:
If you reg take the #373 bus b/w Coogee/MartinPl, wear religious attire, & don't feel safe alone: I'll ride with you. @ me for schedule.

— Sir Tessa (@sirtessa) December 15, 2014
Maybe start a hashtag? What's in #illridewithyou?

— Sir Tessa (@sirtessa) December 15, 2014
Fellow Australians joined on Twitter and Showed Solidarity with the Muslims:
#illridewithyou radiates the beauty of Australian mateship. We are many, but together we are one. #sydneysiege pic.twitter.com/cmJonDi7Lc

— Lisa Donaldson APD (@Lise_Simpson) December 15, 2014

Others gave relevant examples from past to reinforce their stand:
#illridewithyou reminds me: Muslim Woman Covers the Yellow Star of Her Jewish Neighbor with Her Veil. (Sarajev, 1941) pic.twitter.com/LTKBsMxk5N

— Ken Sekiya (@ki_sekiya) December 15, 2014
#illridewithyou is in the same league as this: pic.twitter.com/VwrEkDmpt7

— Insouciantly Aussie (@geeksrulz) December 15, 2014
Public transport + racial harmony = my kind of campaign #illridewithyou pic.twitter.com/qHJhhY8sPI

— Sudhvir Singh (@sudhvir) December 15, 2014
Let's not be clicktivists only but #illridewithyou activists….this may well be our finest communitarian hour.

— FatherBob (@FatherBob) December 15, 2014
If you need #illridewithyou. I'll even drive you round if you need.

— คmanda (@amandaforealz) December 15, 2014
This is awesome! #illridewithyou is trending WORLDWIDE!!! #SoProud pic.twitter.com/PGPODN0Qij

— Kiera (@KieraGorden) December 15, 2014