Iqra University Job Fair & Startup Expo 2019 was held at Iqra University, Main Campus in which more than 300 national and international companies participated and provided more than 3000 placement opportunities. The Chief Guests, Mr. Junaid Ismail Makda (President Karachi Chamber of Commerce), Mr. Muhammad Bux Khan Mahar (Minister for Sports Govt of Sindh), Mr. Syed Mumtaz Ali Shah (Chief Secretary Sindh), Mr. Syed Nasir Hussain Shah (Minister Transport & Mass Transit, Labour, Human Resources, Information) visited the Job Fair and acknowledged the kind efforts of the university.
Multinational and National Organizations included SSGC, PSO, PTCL, Standard Chartered Bank, SGS, Deloitte, KPMG, GfK Etilize, Agility, DHL, Ibex, Sanofi, Group M, Avery Dennison, Pepsi, Gul Ahmed and various others provided employment opportunities to students & graduates.
The Job Fair 2019 served as an interactive platform for the recruiters to hire some of the most talented minds in the country.
More than 300 renowned, local and international companies like PSO, PTCL, KPMG, EFU, McDonalds, DHL, Dunkin Donuts and popular industrial groups from across Pakistan like Lucky group, AlKaram, Al Rahim Textile Industries participated in the Job Fair.
Zameen Media
One could see students were giving interviews while the recruiters were engaging in giving constructive feedback.
The recruiting companies which were present in the Job Fair had more than 2000 vacancies available.
This meant that each candidate had a good chance of landing a job through Iqra University's Job Fair 2019.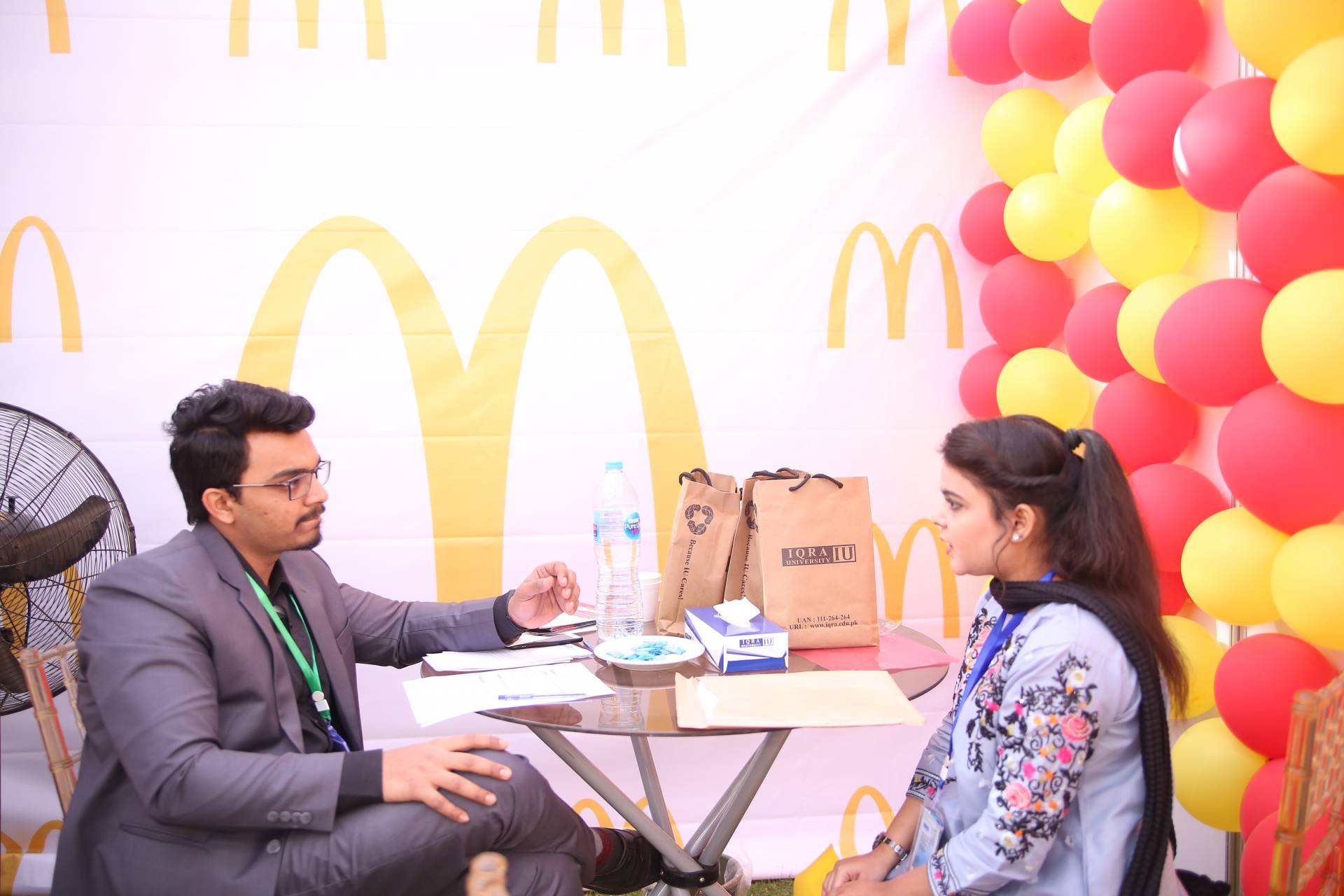 How? Well, all the students had to do was to meet employers, engage in productive interviews and secure their dream jobs.
Besides this, a Start-up Expo 2019 was also organized on the same day. During the Expo, Iqra University inaugurated a state-of-the-art Business Incubation Centre. The Incubation Centre aims to provide multiple facilities like mentorship, seed funds, venture capital and linkages with the corporate industry.
It is important to note that Iqra University has set aside a venture capital of Rs 20 million for the start-ups proposed by Iqra students. This step has been taken to motivate the students to come up with entrepreneurial ideas and then help them establish their own start-ups. This will, in turn, create more jobs for young people.
So far, 60 start-ups have been established by Iqra students. These businesses are running successfully. Some of them were also displayed during Expo 2019 and the ideas were super creative!
How creative is this?!
With so many opportunities and platforms, Iqra's graduates are sure to make their mark.  There's no doubt that they will become a valuable part of Pakistan's workforce and contribute positively.