Disclaimer*: The articles shared under 'Your Voice' section are sent to us by contributors and we neither confirm nor deny the authenticity of any facts stated below. Parhlo will not be liable for any false, inaccurate, inappropriate or incomplete information presented on the website. Read our disclaimer.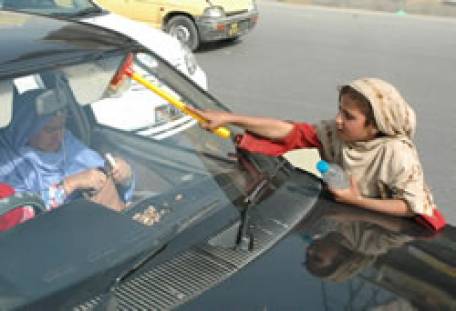 The moment vehicles stop at a red light, they swarm up to your wind shield and start wiping it with small wipers. Sometimes they fight with each other over the claim of vehicles as who approached the car first and who would clean it. Drivers hush them if the screen is already clean; drivers let them do it if the screen needs a wipe or drivers let them do it for the sake of helping them. This latter category is 2% of the whole as we all try to discourage the child labor or the way the kids seek help in terms of beggary.
There's another scenario when a kid begins wiping your vehicle's front screen and you stop him/her, but they continue cleaning despite your warnings. When the signal turns green and you are ready to go, they knock, or rather, beat the window to ask for the wage against their labor and you try to avoid it. The moment they sense your motive, they again rub the dirty wiper on the screen or window and start cursing. You rush towards your destination leaving the cursing behind.
Their sharp mind, quickness, energy, selection of vehicles and catching the right prey is an art. They do not fear the high speeds; they are immune to dust and smoke. So much so, they don't follow breakfast lunch or dinner time – they just work, work to earn as much money as they can in a day.
I have seen them barefoot and I have seen them wearing no jacket in winter. I have seen them smiling under the scorching heat in summer and I have seen them struggling. Apparently, they are care-free by nature but careful about what they are doing. They have to be responsible because they are the bread winners of their families. Many times, while on my way to work, I saw them escape a hit by a vehicle by barely an inch, especially in morning when we transform into F1 race drivers and rush off without patience.
I have seen people abusing those children who dodge the traffic once the signal turns green. Their souls carry the burden – not their school bags. They only know that if they won't move towards the vehicle to clean, someone else will. So, they run and they fight and they earn.