Travel and tourism are one of the world's largest industries. This sector is considered one of the biggest foreign revenue generators. There are just so many benefits associated with the tourism industry that its significance can certainly not be underrated.
As a result, countries blessed with natural beauty do endeavor to attract large crowds of visitors and travelers to their land. Our homeland, Pakistan, is no exception to this trend.
In search of new avenues of revenue, our field of tourism has been on the progressive side, recently. So much so, that we have made positive efforts to let it evolve into a fully-fledged industry.
Over the last few years, we have witnessed some of the best travel vloggers who catered to our national exchequer Moreover, they also improve our reputation at a global level.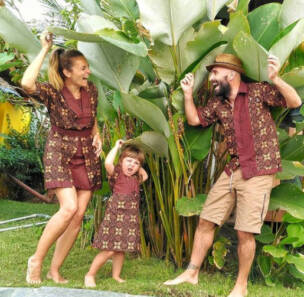 Another international tourist who is planning to visit Pakistan in the near future is Mark Boccolato. He hails from Italy and posts his travel adventures on his official Instagram handle 'born2travelit'.
In one of his recent Facebook posts, Boccolato said last year he visited various countries across Asia with his family. He made a visit to Iran and India.
The Italian traveler also made a visit to a few Central Asian countries including Kazakhstan, Kyrgyzstan, and Uzbekistan with his wife and 3-year-old daughter.
Boccolato said that he was amazed by the beauty of all those countries in Asia.
Mark, Stefy and family are coming to Pakistan
After visiting several countries in Asia in 2019, Boccolato has expressed his desire to visit Pakistan. It is good to see a traveler from Italy wishing to visit Pakistan with his family.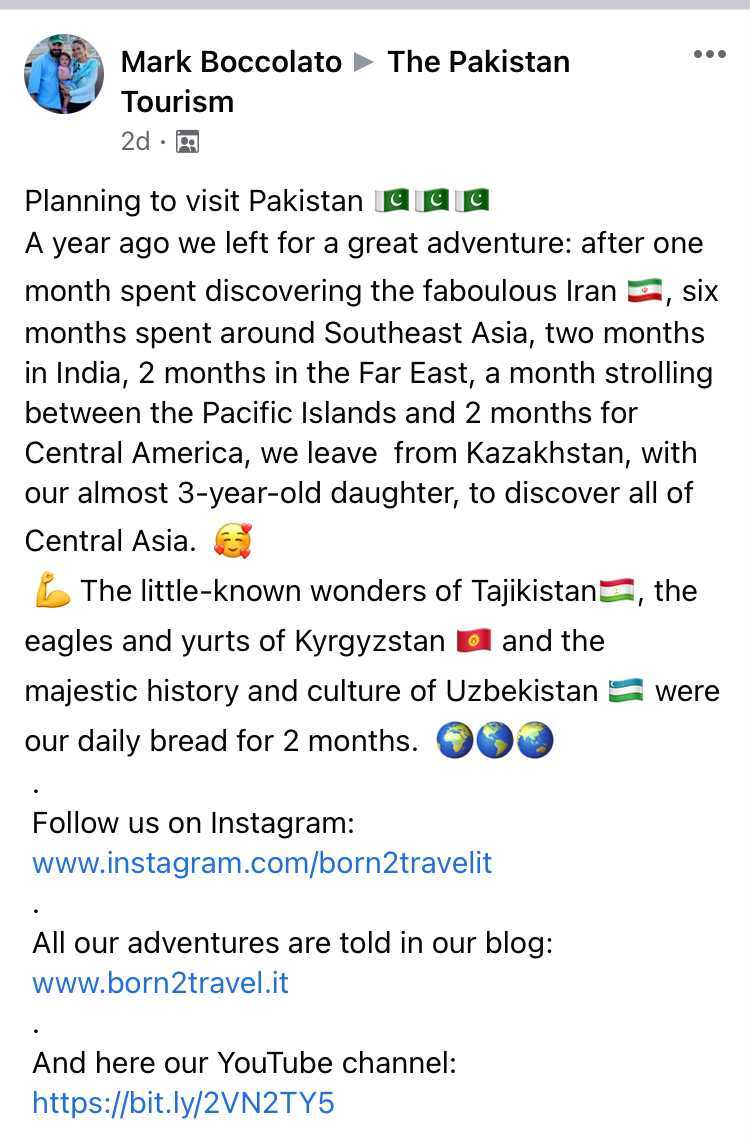 Let's hope Boccolato soon visits Pakistan and enjoys his stay in the country with his family.
You can also check out the travel adventures of Boccolato on his official Youtube channel.
The influx of famous tourists from across the world
It is good to see people like Boccolato expressing their desire to visit Pakistan. Since 2018, there has been a significant increase in tourists from different parts of the world. Prominent vloggers have made been here and enjoyed their stay.
One of the most famous vloggers to visit Pakistan is Rosie Gabrielle. She is a Canadian travel vlogger who became known for her travels around Pakistan.
About a year ago, she traveled throughout the country on her motorbike and fell in love with the place, culture, and people. She traveled to a lot of regions of the country; Lahore, Swat, Multan, Gwadar, and beyond.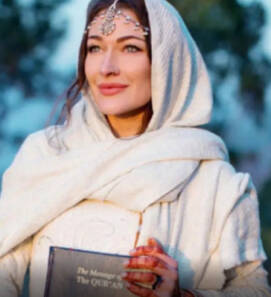 In addition to this, the famous Instagram personality later even converted to Islam.
Another famous international vlogger that visited Pakistan is Eva Zu Beck. In all of her vlogs, she stimulates you with her powerful narration, making the audience fall in love with the exquisiteness that constitutes Pakistan.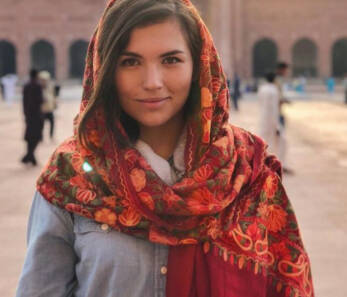 Eva's travel vlogs allow viewers to explore the most distant areas of Pakistan. The way she reveals our scenic secrets and provides us reasons for her love to travel are all worth watching and listening to.
Pakistan is beautiful. With clear intention, strategic planning, and a transparent approach, Pakistan could become one of the most popular tourist destinations in the world.
What do you think of this story? Let us know in the comments section below!