Model and actor Saheefa Jabbar Khattak recently underwent corrective cosmetic surgery to fix her deviated septum in order to tackle various health issues. Taking to social media, the model addressed the elephant in the room – how cosmetic surgery is taboo in Pakistan no matter what the intention behind the procedure is.
More people, whether to enhance their looks or resolve health problems, are becoming more open to going under the knife. The stigma still continues to be strong when it comes to discussing one's experience or even admitting to having had surgery in the first place.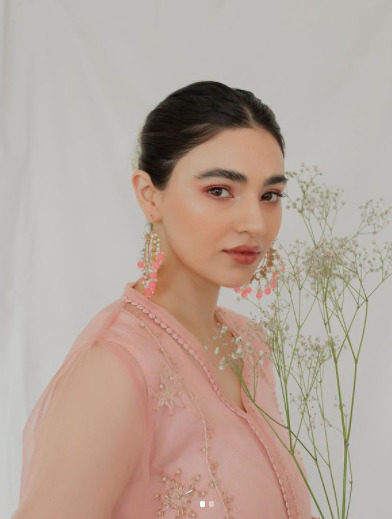 Khattak recently shared before and after photos from her rhinoplasty on Instagram, which she underwent two months ago. Her deviated septum caused breathing problems and pain for which she underwent the procedure. Sheefa Jabbar penned a detailed note about her experience sharing her experience with cosmetic surgery procedures.
WARNING: Some viewers may find the picture below disturbing. Viewer discretion is advised.
Have a look at it
The Log Kya Kahenge actor explained that she was initially hesitant to get the surgery. "I had a deviated septum," she wrote. "The doctor told us we'd need to operate on the nose and surgically fix the bone. I've always been afraid of going under the knife. And cosmetically removing a part of my face just freaked me out. I didn't want to get it done then."
However, the health issues resulting from her deviation made it necessary for her to get surgery. Having nose bleeds and breathing issues caused the actor to agree to the rhinoplasty.
'Painful, uncomfortable and scary'
In her words, it was a difficult experience. "I did the surgery two months ago. Alhamdullilah it went perfectly fine," she added. "My fears about it were real though."
"Everything about it was painful and uncomfortable and scary. The procedure itself wasn't complicated, but the post-operation time was hard. I found breathing quite difficult in the two weeks after the surgery and had to stay glued to my bed."
The actor explained that cosmetic procedures like nose jobs are not always about beautification. "Cosmetically solving medical issues is considered such a taboo thing to do in Pakistan, and it isn't as people imagine it to be," the Log Kya Kahenge actor explained.
"It isn't always about beautification, there are a good number of cases when it's about alleviating pain and improving health. It's best to educate ourselves before jumping to conclusions and making assumptions."
"It took eleven years of courage to get to this point, but I'm glad that I did it now, and can at least breathe normally," she concluded.
Read More: Man Undergoes Cosmetic Surgery 9 Times After Being Laughed At During A Job Interview
What do you think of this story? Let us know in the comments section below.