Another barbarian act by the Israeli forces last night was when they attack Al-Aqsa mosque and beat the worshippers badly.
Israeli forces also stun grenades and arrested several worshippers from inside the mosque. Kids, women, and men, everyone were screaming when Israeli forces attack.
It was the violent raid on the Al-Aqsa Mosque compound in occupied East Jerusalem. As per the report, almost 400 worshippers were arrested and remain in Israeli custody with bruises.
All of the hostages are being held at a police station in Atarot in occupied East Jerusalem. Palestinian witnesses have come forward and shared the whole scenario.
Al Aqsa Mosque Attack By Israeli Forces
Palestinian witnesses said that "Israeli forces used excessive force including stun grenades and tear gas, causing suffocation injuries to the worshippers, and beatings with batons and rifles."
As to the Palestinian Red Crescent, almost 12 people got injured, Israeli forces also prevented medics to reach to Al-Aqsa mosque.
The raids were held till Wednesday morning when everyone can witness how badly Israeli forces beat worshippers and kicked them out of the mosque. Their main goal is to prevent them from praying.
"I was sitting on a chair reciting [the Quran]," an elderly woman told the Reuters news agency while sitting outside the mosque, struggling to catch her breath. "They hurled stun grenades, one of them hit my chest," she said as she began to cry.
We Were Forced To Enter, the Israeli Forces
Israeli police said in a statement that they were forced to enter the compound after "masked agitators" locked themselves inside the mosque with fireworks, sticks, and stones.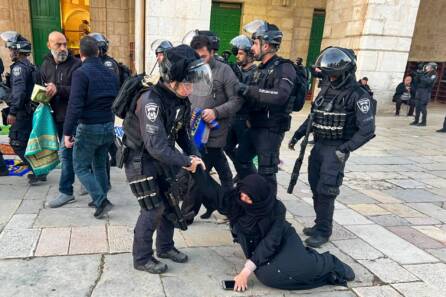 "When the police entered, stones were thrown at them and fireworks were fired from inside the mosque. Led by a large group of agitators," the statement said, adding that a police officer was wounded in the leg.
Last year in April Israeli forces attacked Al-Aqsa mosque during Fajr prayers.
Palestinian Prime Minister Condemned The Attack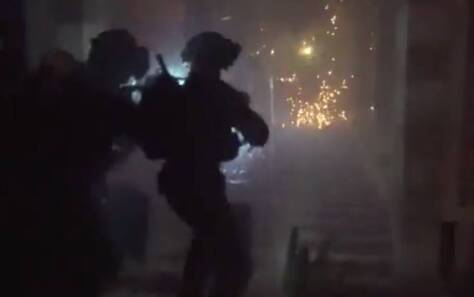 Prime Minister Mohammad Shtayyeh said in a statement "What happened in Jerusalem is a major crime against the worshipers. Prayer in Al-Aqsa Mosque is not with the permission of the [Israeli] occupation, but rather it is our right.
"Al-Aqsa is for the Palestinians and all Arabs and Muslims, and the raiding of it is a spark of revolution against the occupation," he added.
What do you think of the story? Tell us in the comments section below.