Pakistan as we know it is in a state of poverty for a long time now. More than half of its population is living in horrid conditions. With the influence of social media every day we come across heart-wrenching stories. Stories of people struggling to make ends meet.
Stories of people who unlike a few lucky ones are fighting their battle with poverty. These stories really paint the picture of the kind of world we are living in. These stories make us realize that indeed there are people who need our help. Over the years we have come across many people who have shared their problems on the internet while receiving a plethora of support and solutions.
Aroosha's Plea
Recently, a girl's plea was doing rounds on social media which got our attention. Aroosha Gul is a student of "The Riphah International university". She is going through some major financial crisis as she and her father, Mr. Sajjad Hussain are unable to pay for her semester fees. The fee challan which carries all the details were sent as proof of her honesty.
Here's a picture of her fee challan and the amount she needs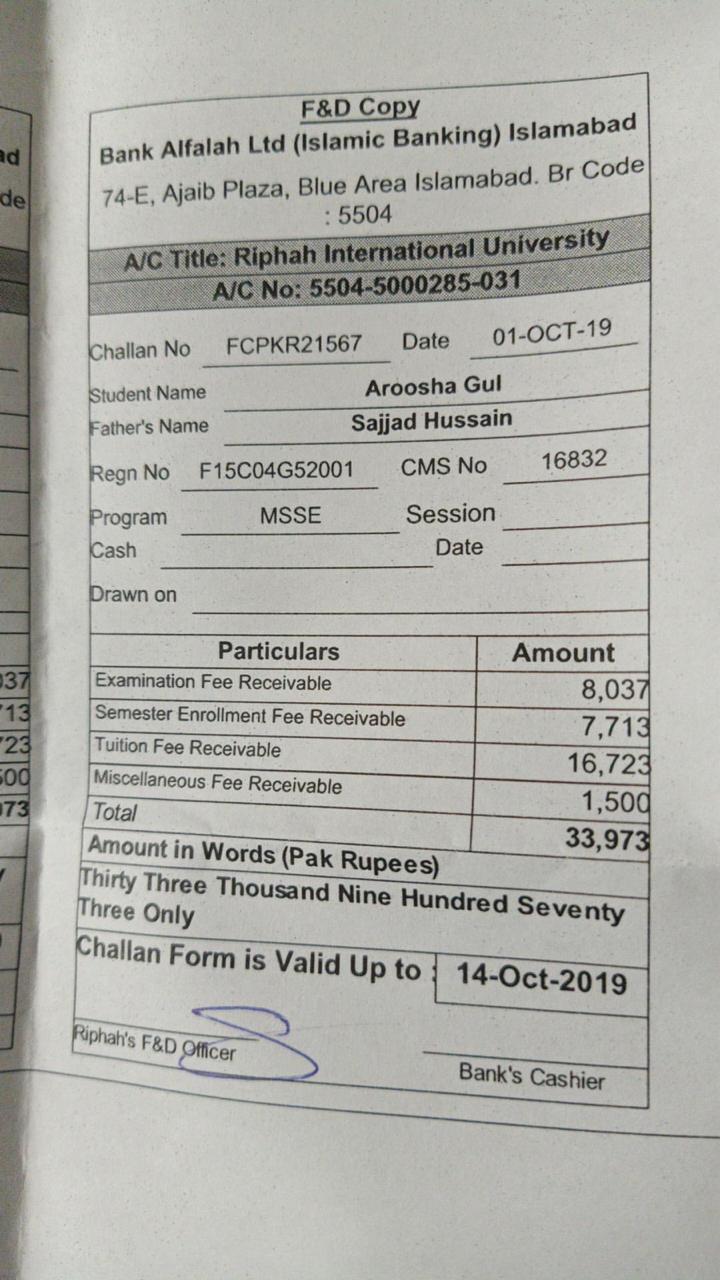 Aroosha's will to ontinue studying even in the time of crisis should be commended and supported. It was one of her friends who had posted these pictures and not even Aroosha herself.
It is very unfortunate that the state has failed to provide its citizens security and protection against this plague of poverty. However, where all hope seems to be vanishing now the only bright thing is that we are living in the modern world of social media.
Here are her account details:
Name: Aroosha Gull
Bank name: Allied Bank
Account number with branch code: 02360010050646890018
The time, where it takes only a click to spread a message, it clears the way for getting our voices heard. So, let's band together and get her message across to someone who may actually be willing to help her. We have to get her fees paid before the 14th of October.