Large-scale demonstrations and protests took place across all major cities of Pakistan on Saturday after a brutal gang-rape incident that took place on the Lahore-Sialkot motorway a few days ago.
On Wednesday, a woman was raped in front of her children by Abid Ali and Waqarul Hassan Shah on the motorway. After the news broke out, women across the country were enraged. Moreover, the recent cases of the rape and murder of a six-year-old girl in Karachi and the murder of a transgender in Peshawar added fuel to the fire.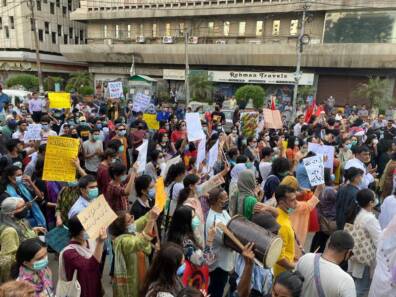 The case was made worse after Lahore CCPO Umar Sheikh criticized the woman's decision to take the motorway route. He later doubled down on his stance. Also, refused to apologize despite calls for him to retract his insensitive, and needless statement.
As a result, women all across Pakistan began protesting. The Aurat march demanded that public spaces be made safe for women, radical procedural and institutional changes, the banning of the two-finger test, and the establishment of cells for the reporting of gender-based violence.
In addition to this, a number of prominent women's rights activists and personalities attended the protests in different cities. A large number of men held placards for the empowerment of women.
Not all heroes wear capes – proves the chocolate-boy!
Women, men, and children gathered outside the Islamabad Press Club and chanted slogans against lack of security. Everybody at the protests chanted slogans and carried placards and posters demanding their rights and justice for the victim of the recent rape. As well as demanded the men who committed the crime to be brought to justice.
While everybody was busy chanting their lungs out and sweating in the scorching heat, this guy at Islamabad Aurat march distributed almond chocolates and water bottles!
According to this guy named Zakreiya, as per his Twitter handle, he did what men were told to do. Moreover, he stayed behind and helped. What a true hero! Not only was it immensely thoughtful of him but also extremely hospitable.
Imagine someone handing out a water bottle to you just when your throat had gone all dry from the constant chanting. Would be a true blessing, wouldn't it?
With a poster saying 'I got supplies', this guy made everybody's day by his considerate action.
Under his Twitter thread, many recognized him from the event and appreciated him for his act of kindness.
Oh, and he also gave biscuits!
Shout-out to this amazing young man! He stayed at the back. And kept supporting women fighting for their rights. Thank you for existing! We certainly need more people like you in this world.
What do you think of this story? Let us know in the comments section below.