In these harsh times where every Pakistani news headline shows a new horrific side to this society inducing a sense of hopelessness and sorrow onto its consumers, a ray of light peeks through every once in awhile restoring faith in humans. This time, it is a traffic police constable from Islamabad that is winning everyone's heart.
His video has gone viral where he is seen helping out a disabled man; with a little struggle and a gentle push, he managed to help the man climb; who was on his way to join Azadi March.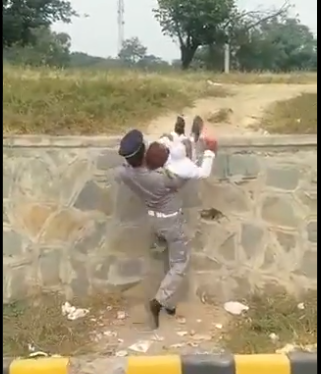 The name of this duty-bound and kind constable is Amir Baig. He hasn't just elevated his own integrity by doing a righteous deed but also promoted a positive image of the police force in Islamabad. It's important to know how one's actions can affect so many aspects surrounding them.
Moreover, his kindness was not only lauded by social media alone but IG Islamabad took great notice of the incident. In addition to this, IG Muhammad Amir Zulfiqar Khan decided to award Amir Baig on setting a great example.
IG Islamabad announced a 10,000 rupees award along with a certificate for Amir. Here's the beautiful video:
آئی جی اسلام آباد محمد عامر ذوالفقار خان نے معذور شہری کی مدد کرنے والے کانسٹیبل عامر بیگ کے لئے دس ہزار روپے اور سرٹیفکیٹ کا اعلان کیا. ٹریفک کانسٹیبل عامر بیگ نے معذور شخص کی مدد کرکے اللہ کی خوشنودی حاصل کرنے کے ساتھ پولیس کا نام بھی روشن کیا.@PTVNewsOfficial @RadioPakistan pic.twitter.com/hmiTYX9t8f

— Islamabad Police (@ICT_Police) November 2, 2019
Positive and kind actions helping the community should be awarded by the concerned authorities to enforce the idea of goodness. This will encourage others to follow the same footsteps instilling values that are needed to make this world a better place.
IG Islamabad, just like Constable Amir Baig has proven to be of sound mind, possessing great leadership qualities. Pakistan's police force has garnered a bad reputation following some disappointing incidents, involving police thuggery.
It is important to show the other side of the force as well. So the honest and hardworking officials that are working for the greater good of this country are not overshadowed by the black-sheep in this organization.
Social media cheers at Amir Baig and Islamabad Police:
Truly! It made everyone's day. 
This made my day. Well done @ICT_Police for appreciating constable for his beautiful act of kindness..

— A (@AsadullahLag) November 2, 2019
Absolutely! Acknowledgment is always a great factor in promoting the right course of action. 
Nice gesture
Steps like this will improve the image of police in public
Which will in turn be better for overall law and order situation

— Kamran Khan🇵🇰 (@S_kamikhan) November 2, 2019
Indeed. The good work done by our law enforcing agencies should also get media coverage. 
@geonews_urdu @ARYNEWSOFFICIAL Police humanity should also be presented to the media

— Bader Al Hussain (@BaderAlhussain0) November 2, 2019
Constable Amir restoring faith in humanity!
Perhaps the greatest charity comes when we are kind to each other .
Hate off to this man 👏 ❤️

— Abdurraheem Haider عبدالرحېم (@AbdurraheemHai1) November 2, 2019
Well said. However, moral and ethical corruption dominates. 
Wish all #Police officers were like this and would think that serving the #Community is their actual job and thats what they get paid for even if a civilian shouts (this could mean he/ she is upset) and police officers must try to calm and assist them to the max

— djmoh (@djmoh2) November 2, 2019
'Shabash' is a great way to praise the Islamabad police force. 
Weldone Islamabad police, want to see much more kindness in future. Stay blessed and keep on good work. Shabaash

— aazi cheeta (@aazicheeta) November 2, 2019
Twitter users raised some great points; which included better facilities for the differently-abled along with more media coverage for the police officials that are honestly serving this community without a shred of greediness and personal-gains.
Positive stories like these truly brighten the dull day. We congratulate Amir Baig and hope that he continues to inspire his colleagues and Pakistan, like today.
Did this story place a big smile on your face? Let us know in the comment section below!