As the 'red list' deadline approached on April 9 (today), thousands of United Kingdom citizens in Pakistan scrambled to get back to the UK at the Islamabad International Airport on Thursday.
It was a highly unusual activity at the Islamabad International Airport. Above 4,000 passengers departed for two different destinations to the UK. That too, in a single day for avoiding red list limitations, said Dawn.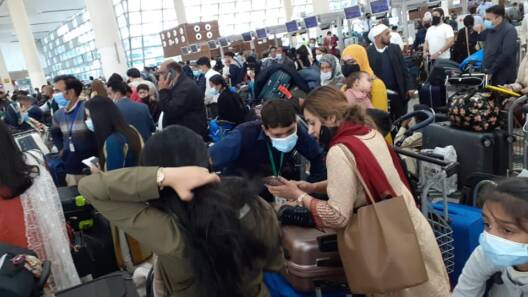 There was a sudden increase in the number of travelers who wanted to reach the UK before April 9. Pakistan International Airlines completed its flight operations with 13 chartered planes to send about 4,000 Pakistanis.
The national flag carrier arranged chartered flights from different countries on short notice to transport thousands of Pakistani migrants to the UK before the deadline, which is 8 pm on Friday according to local time.
Thousands of passengers anxious to return to the UK waited for hours in queues. The Civil Aviation Authority (CAA) and other services' staff faced difficulties in managing the unprecedented rush at the airport and enforcing COVID-19 SOPs and precautionary guidelines.
Owing to the large rush of people wanting to travel to the UK, the price of an air ticket shot up to a whopping £1,600 i.e. around PKR300,000. It must be noted that the passengers who reach the UK till today are not bound to stay in quarantine in hotels. Moreover, for that, they are to bear the expenses themselves.
With no indication of when the red list restrictions might ease, enterprising travel agents have chartered in many additional aircraft to take part in the airlift.
The 'red list'
The UK government on Friday put Pakistan on the "red list" of countries effective April 9. A decision it said was based on advice from public health experts as well as scientific data.
Effective today, passengers from Pakistan will be denied entry to the UK. Unless they are British or Irish nationals or have residency rights. The cost for one adult in a government-approved hotel room for 10 days is £1,750, which does not include the mandatory £210 each passenger has to pay for testing in this period. A negative PCR test at this time does not shorten the duration of the quarantine.
Meanwhile, 105 more people have died during the last 24 hours in Pakistan and the current positivity rate is 10.7%.
Last year, Pakistan placed travel restrictions on UK passengers after the global ban due to Coronavirus. The decision came in after the emergence of a new mutated strain of COVID-19 that was spreading rapidly in England.
What do you think of this story? Let us know in the comments section below.