Police on Sunday successfully handled a hostage situation in Islamabad, rescuing two children, and also arrested the suspect involved in it.
According to details, a man reportedly entered a house in the Bara Kahu area of the capital and held two children hostage to avoid arrest at the hands of the law enforcement authorities (LEAs).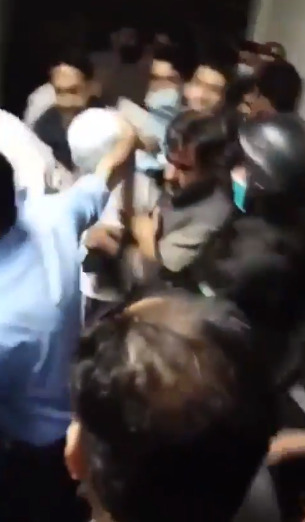 After a successful operation led by top cops, the police rescued the children. In addition to this, also arrested the suspect, who could be seen in a video shared by the Islamabad police being shifted with his face covered.
The children were aged three and two years and have been handed over to their parents. One person identified as Faiz sustained bullet wounds after the suspect opened fire on him, according to sources.
As of now, the police have initiated a probe into the entire matter in addition to recording the testimonies of the eye-witnesses in the neighborhood. Following the incident, the Islamabad police took to Twitter to laud SP Hamza Humayun.
SP Humayun took part in the operation personally to rescue the children successfully. Not only that but he also managed the entire hostage crisis.
"The IG Islamabad Qazi Jamil ur Rehman lauded SSP Operations Islamabad Dr. Syed Mustafa Tanveer and SP Hamza Humayun for tackling the hostage situation," the Islamabad police said in its tweet.
Here is the video of the police arresting the suspect
Terrorism is not new in Pakistan. However, thanks to the hardworking, brave, and strong police officers who risk their lives for the sake of protecting others. The sacrifice and bravery of such police officers are beyond applaudable and we should appraise them for their determination courage.
Last year, the Pakistan Stock Exchange came under a terrorist attack. Four gunmen attacked the PSX building. A group of terrorists tried to attack the Pakistan stock exchange but badly failed as Sindh Rangers and police tackled each one of them down to the floor.
Constable Khalil and Constable Muhammad Rafiq were the two brave heroes who neutralized this group of violent terrorists and killed every one of them. And we could not be more proud of them as well as SP Humayun!
Just the thought of facing the risk of losing your own life and yet fighting bravely to save the lives of others is truly inspiring. We stand by them and will always be there to defend and protect our country Pakistan. May they all live long and prosper!
What do you think of this story? Let us know in the comments section below.