Former finance minister and member of the Pakistan Muslim League-Nawaz (PML-N) Ishaq Dar recently appeared in an interview on BBC HardTalk. The close aide of former prime minister Nawaz Sharif faced intense grilling during the show when the host asked some grueling questions, leaving Dar at loss for words on many instances.
Show host Stephen Sackur asked various questions to Dar related to his assets and the reason for his and Sharif's self-exile from Pakistan.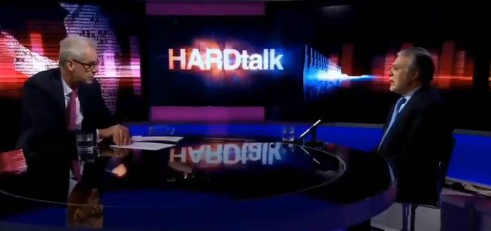 Sackur asked the total number of properties Dar owns in Pakistan. In reply, Dar said his tax records were clear and he had replied to all tax matters.
"It's all declared in my tax returns. Everything is clear."
When the host asked him the same repeatedly Dar had to say he and his wife own only one property in Pakistan.
Dar said, "I have my main residence in Pakistan which has been taken over by this regime. I haven't got too many properties."
The former finance minister also said his sons, who have been in business for the last 17 years and are not dependent on him, own one villa in Dubai. He also said that his family owns no property in London.
Dar was also asked why he does not go back to Pakistan to make his case in court, Dar said, "I am here for medical treatment for almost three years [as] my lawyers represent me in court."
"What's happening in Pakistan? Where are the human rights? What's happening in NAB custody?"
Dar says Nawaz Sharif is not against the Army
The host asked how Nawaz Sharif had initially worked hand-in-hand with Pakistan's military dictator General Zia for several years before suddenly deciding that military interference in the politics of the country is completely unacceptable.
Dar simply responded, "Maybe evolution process".
Sackur questioned if it was because Sharif had been in power then and that now he was not, to which Dar replied, "Mr. Sharif would have been 'fourth-time' prime minister, had he not gotten into trouble with the establishment".
Sucker asked another question about PDM leaders backing away from Nawaz Sharif's accusations against the army. In reply, Dar said that there was a misunderstanding among people regarding the former PM and Pakistan's armed forces.
"I think there seems to be a confusion in the matter. Mr. Nawaz Sharif, as prime minister or otherwise, is not against the army," he said. "He blames certain individuals and says the buck stops at the top."
Dar also commented on the accountability of PM Imran Khan.
"What credibility does the Imran Khan government has? It was a stolen election," said Dar in response to a question as to whether he or Sharif have any credibility with the masses. He said the results transmission system was unfair.
Netizens troll Dar for his embarrassing interview on BBC HardTalk
Pakistani social media users all across the world trolled Dar for his humiliation on the famous BBC show.
The BBC Hardtalk interview with Ishaq Dar does raise some important questions regarding the accountability of PML-N members such as Dar. It is essential to note that Dar was declared as an absconder by the Supreme Court in 2017.
Sharif failed to appear before the court since he was in London as he was reportedly undergoing medical treatment. Since then, he remains in London.
What do you think of this story? Let us know in the comments section below!