It's August! It's that time of the year when the streets of Pakistan are drenched with the color green. People start to use green color more often than usual. Almost every house has a Pakistani flag flapping at the roof. The reason behind their excitement is apparent, they want to celebrate the Independence Day with a great fervor. This year is the 69th birthday of Pakistan.
We do not have any shortage of patriots in Pakistan. When it's August, suddenly everyone labels themselves as 'patriots' and why wouldn't they? I mean every Pakistani is extraordinarily zealous and passionate at this time of the year, they suddenly have this intense feeling of belonging and inseparability with their country, and the funniest part is the way they express their feelings.
Everyone is suddenly in a race with their neighbors as to who will be having the largest flag hanging from -his house or who will have the more number of small paper flags. Between these struggles they fail to respect their flag, it becomes the weapon with which people exhibit their patriotism.
Among all those who call themselves 'patriots', are people who don't even understand the term 'patriotism'. And the most disheartening thing is that, when the day is over, the small paper flags are seen thrown on the streets, and the people who were very patriotic yesterday, walk all over the small flags not even noticing.
But there was a time when the day was hardheartedly celebrated, maybe people were more patriotic then. Now it is different, we enjoy this remarkable day with posting on social media, enjoying one-wheeling, and how can I forget, eve-teasing (most common).
What I am amazed about is the fact that our patriotism is very punctual, it comes right on time every year. Neither a day early nor a day late, it always bumps into us at the 14th of August, then suddenly it fades. Is it really what I think? That our Patriotism is restricted to the 14th? It might not be wrong to say that 14th August is the only time of the year when we are 'Patriotic'. I feel hurt to see the small flags being walked upon and being part of the trash.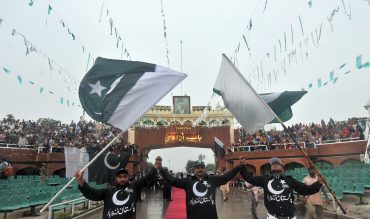 A true patriot would be the one who picks up the torn flags from the floor because he cannot see it being humiliated like that. Maybe it means nothing to you but to me, it definitely symbolizes the 'Single day' of patriotism and the rest of the year of ignorant Pakistanis. Wouldn't it be healthier if we don't decorate our cars with flags just for the sake of one day? Maybe we can let them stay there for more time? Maybe we don't buy the flags in bulk and then throw them away the very next day? Well, I think we certainly could do it, a little change won't hurt anybody.