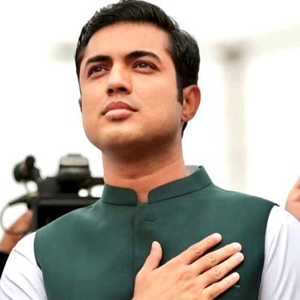 Biography
Iqrar ul Hassan is a daring and heroic Pakistani television Host or Journalist born in 1984 in Lahore. He is currently hosting one of the extraordinary programs of ARY, 'Sar e Aam' which is based on exposing wrongdoers in any way (commercially, locally or in a household) or illegal people. He set on a mission to eliminate wrongdoers from the country. He has been working for ARY for a very long time as a famous Ramadan show with Waseem Badami. He is married to two women from the same journalism background named FarahYousaf and Qurat-ul-ain Hassan. He has been seen as a genuine journalist who exposes culprits and working for the country.
Fact‌ ‌File‌ ‌ ‌
Birth‌ ‌Date‌ ‌–‌ 29 May 1984
Birth‌ ‌Place‌ ‌–‌ ‌Lahore, ‌Pakistan‌ ‌
Age‌ ‌–‌ ‌ years in 2020
Father‌ ‌–‌ ‌not known ‌
Mother‌ ‌– not known
Marital‌ ‌Status‌ ‌–‌ ‌Married‌ ‌ ‌
Wife-‌ Qurat-ul-Ain Hassan and Farah Yousaf
Children ‌– Pehlaj Hassan
Nationality‌ ‌–Pakistani‌ ‌
Religion-‌ ‌Islam‌ ‌ ‌
Occupation‌ ‌–‌ Journalist, Host, TV Presenter ‌ ‌
Years Active– 2006-present
Background
Iqrar ul Hassan is a hard-working, determined journalist willing to expose culprits and work for the nation. He has been associated with tv channels for a long time; he joined ARY news as a moderator and after some time, write as a columnist. Currently working journalist with his famous show Sar-e-Aam which viewed as most popular show.
Educational Qualification
Iqrar ul Hassan received his education from Government College in Lahore then purse his career in journalism.
Personal Life
Iqrar comes from a family background that has nothing to do with media and television, but he made his decision to work as a journalist. He got fame real soon and married another journalist Qurat ul-ain; together, the couple has a son Pehlaj who also get fame at a very early age with his sharp sense and confidence. Pehlaj made his appearance as a child star in a well-known drama Alif as Qalb-e-Momin, which really got loved and appreciated their kid also host a show like his father. Later in some time, his picture with another girl came out and without any delay, he made it clear that she is his second wife 'she is my second wife, and she is with us on the trip.' He is both wives and son; they all are happily living together.
Iqrar wives
iqrar ul Hassan has first known wife is also from the journalism named Qurat-ul-ain Hassan and mother of famously known child star pehlaj Hassan. She has a huge fan following on social media; His second wife is also from media journalism named Farah Yousaf publicly announced by him on national television. As per him, they all are living a happy life. He also revealed some details about his second marriage.
Professional Life
As a Newscaster
Iqrar started his career as a newscaster for ARY news and with a very short time period gain so much love and popularity from the audience nationally. He is from those who don't fear while doing right and taking a stand for right.
As a Host
After serving news channels for so long, he got noticed and by so many people and offered started coming to host. A show named 'sar e am' by ARY network was offered to him and he owned that show in a way that everyone liked. This show was a turning point for his career; a new bold and courageous iqrar ul Hassan came out in this show, which exposed hundreds of wrongdoers in his team's performance. He is brave and willing to eliminate all culprits from Pakistan at any cost and people loved his action through his show.
In carrying out his show, he faced many dramas, threats, and unacceptable behavior from the wrongdoers. He was even sent to jail after exposing the weak security personnel of Sindh, and after being thrown to jail, his will and enthusiasm remain the same; he is still determined to throw culprits in jail instead of innocent people. He is the one who has been involved in several cases and daring operations but the most challenging task that he had done was of railway officials and their unlawful behavior. They got caught red-handed by iqrar ul Hassan and his team for taking drugs and illegal arms
Sar e Aam team in 2017 started a campaign for providing education to the needy students in Karachi. He invested so much and demanded from the people to contribute. He has to admit that he has done so much that people rely on him and suffering ones to reach him for help. It his responsibleness towards people that got him such popularity and success.
Incident
In doing such a daring task, he often bears the repercussions; one of the main was on 29th April in 2016, he got arrested with this team wrongfully on the orders of the Sindh Home Minister because of highlighting the poor security in the Sindh assembly. But he was fortunate enough and got bailed in just a day later.
'Sar-E-Aam' The Famous Show
Sar e aam" is a program that stands on an objective basis to remove culprits that are living within us. Iqrar ul Hassan has uncovered many fake 'Spiritual healers' known as baba etc. who were making the fool, the innocent people, and taking handsome amounts from them to complete their wishful thoughts and sovle problems. He is a courageous man and faced many steeplechases with showing the accurate picture of corrupt people in front of a nation. The program got fame because of Iqrar's blunt personality and honesty towards the country. However, he faces many consequences for exposing others even his life was in danger but still, his efforts are all seen today.
Tree Planting Campaign By Iqrar Ul Hassan And Team
Team Sar-e-Aam has launched a tree plantation campaign nationwide; this was also a great initiative by Iqrar ul Hassan, and their target is to plant 1.4 million trees by 14th August. To spread the message, they are visiting universities, colleges, and Madaris as well. Their first destination was "Jamia Abu-Bakar Al-Alamia." The tree plantation drive was started by Iqrar-ul-Hassan from Karachi while team members are also planting trees in other parts of the country.
Awards & Recognition
His popularity and fame are just not for name sake; he was voted for Anchor of the year in 2013, and in 2019, he won the 10th Pakistan Achievement Award for the "Best Tv Show of the Year" Sar-e-Aam.