The showbiz and journalism industry of Pakistan is renowned in the country, and known all across the world. In the last 10 years, one of the most famed and hardworking personalites has been that of Iqrar-Ul-Hassan, the Sar-e-Aam front-man who works for ARY News.
Helping thousands of people in his time of service, through his show, Iqrar-Ul-Hassan has made a name for himself, that people admire. However, as of recent, a controversy has surrounded him, regarding his second marriage. Iqrar has always shown himself as a family man to the country, with his son Pehlaaj often taking center stage in his shows.
The other day, Iqrar, on Twitter, accepted for a fact that indeed anchor Farah Hasan was his second wife. Since their marriage became the talk of the town, Iqrar took it upon himself to reveal details of the marriage, especially for his fans. He said that it was his moral duty to inform his fans of every detail in his life, as whatever he is today, is because of their love.
Finally, revealing details, Iqrar accepted that he married Farah Hasan almost 5 years ago. The marriage was not new. He said that every person in his life, may they be from work, family or his surrounding, knows about his two marriages. Iqrar reiterated that he already had two wives before people even knew him, before his blockbuster show had even begun.
Stating that he did not want to take aide of the 4-marriage law in Shariah, he wanted people to understand that this marriage was done under difficult circumstances. Not revealing for whom, Iqrar did mention that it was the need of the time. However, the most important detail from his statement was that his two wives are very good friends, and live as a family.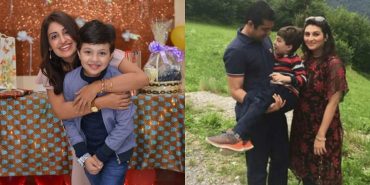 Keeping both his wives happy, Iqrar has bought them houses which are close to each other. Both the families travel with him, be it in Pakistan or abroad. Even when he's not around, his wives meet each other, even go out for lunches or dinners. This shows that there is no bad blood in the family. Iqrar also told his fans that he married Farah Hasan with the consent of his first wive.
The message was vastly appreciated by Iqrar's fans, even his critics were shut silent after the video statement. Iqrar, who has served as mystical help for many people in the country, deserves better than scandals surrounding his personal life.