Oftentimes, we see other people's Instagram posts and sigh in jealousy as we see them celebrating their successes and achievements. That is, however, not true for the PPP leader Sharmila Farooqi, who is not even celebrating the bare minimum. But Yasir Hussain And Iqra Aziz have a piece of advice for her.
Aziz posted a picture of her husband changing the diaper of their newborn son Kabir on Instagram last week.
"A pamper and clothing change session before leaving for work," read the post. "PS he changed Kabir's clothes for the first time, I am so proud of you Yasir Hussain, you've helped me so much in this new phase of my motherhood from pamper changes to holding him while I rest for a bit, and making me breakfasts."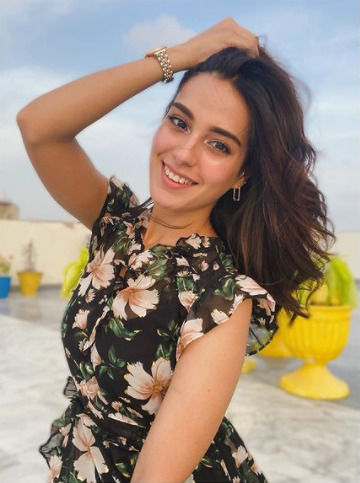 While all that is wonderful, it did not impress Farooqi who is also a mother. "I'm so glad your husband is hands on but it's nothing to be proud of or anything special," the PPP leader commented under the post.
"All good, involved fathers do this for their kids," she added. "My husband bathes, changes diapers, feeds, and takes our son for his pre-school if I'm at work or unwell. And he loves it'"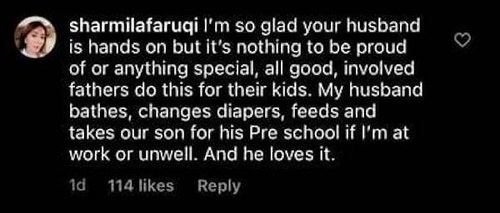 We understand her point of view. Taking care of a child is a team effort and not just the mother's job. The burden of parenting falls disproportionately on mothers, so when a father steps up, it is seen as help rather than a responsibility shared with the mother. A child's birth requires two people, so the responsibility for raising the child should be shared by two people as well.
The couple responds to the PPP leader
Hussain was quick to clap back at the PPP leader. "You guys have a problem with the expression of love and appreciation," he wrote. "Feeling proud is also an issue. But playing politics and destroying the country is not."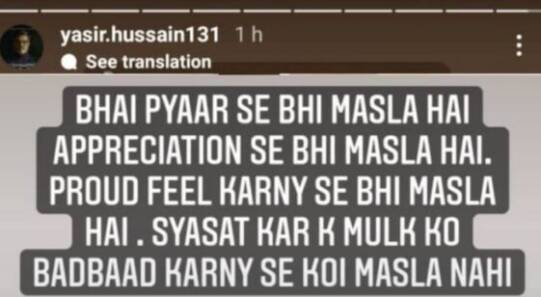 Aziz also called out the PPP politician's shortcomings as a leader. "For you, it might not be a big thing," wrote the Jhooti actor. "But in a world full of men who don't always appreciate their wives for doing what they do as a mother for their child [that is of both] my husband does."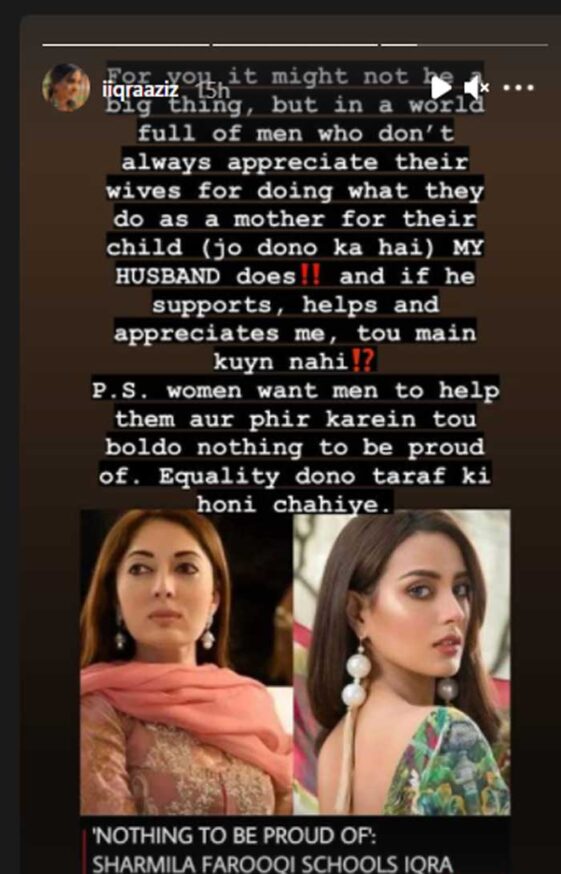 "And if he supports, helps, and appreciates me, then why shouldn't I? P.S. women want men to help them and when they do, you say there is nothing to be proud of," she added. "Equality should be both ways."
While we understand where Aziz is coming from, we should normalize fathers taking a more active role in rearing their children instead of praising them for doing one of the thousand things mothers do for them every day.
What do you think of this story? Let us know in the comments section below.