Academic excellence is the essence of Iqra University. To achieve this mission, Iqra University is continually introducing unique global intellectual academic programs and learning techniques.
In the midst of city of lights, Iqra University pursues a bold ambition: to provide the finest possible higher education in Pakistan. If the goal is immodest, it is also bracing: Elevating the sights and standards of every member of the community, encouraging them to keep faith with the challenge of climbing high, climbing far.
With this spirit, Iqra University has achieved another milestone and launched its Bahria Town Campus in Karachi on 30th December, 2020. Providing affordable and finest higher education from various parts of Karachi, the new Iqra University Bahria Town Campus is equipped with state-of-the-art facilities for students.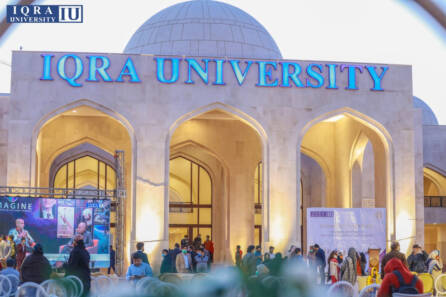 Offering programs like global MBA, BBA, Media Sciences & Medical amongst others, the new campus brings together all services and units of globalized educational provider, from purpose-built classrooms and seminar halls fully equipped with modern day teaching technology, to smart classrooms, blackboard integrated lecture halls, state-of-the-art library and multipurpose rooms which will undoubtedly make the campus a national and international reference in higher education.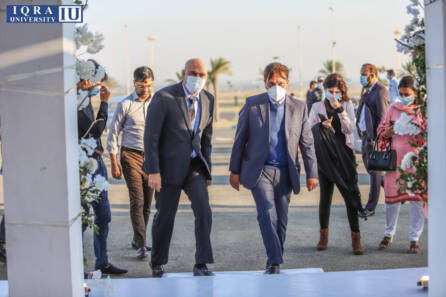 Bahria Town, an icon of mastery, with capacity of 1.6 million people, has mastered the art of urban and town planning and transformed a great vision into reality. Their world class communities are far ahead of their time. Iqra University Bahria Town Campus in Karachi is a product of collaboration between two visionary entities both aiming to accelerate towards the future.
The inauguration ceremony was attended by Hunaid Lakhani (Founding Chancellor – Iqra University), Dr. Wasim Qazi (Vice Chancellor & President – Iqra University), Mr. Malik Riaz (Founder – Bahria Town) & Mr. Ahmed Ali Riaz Malik (CEO – Bahria Town), along with other valuable guests.
The attendees also discussed how COVID-19 pandemic has posed a challenge to the global socio-economic system.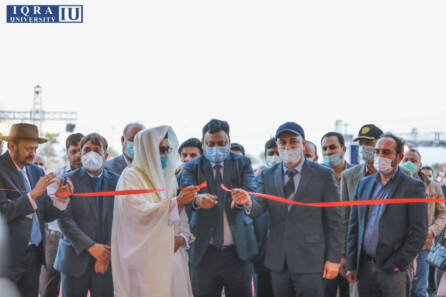 As a consequence of forced digitization, most universities have had to digitize curricular content in an accelerated and precarious manner, restricting planning capacity and hindering effective communication channels. However, in these times of crisis, Iqra University has stepped up and ensured that their mission to spread finest education is not compromised.
Iqra University has implemented efforts in the development of an academic semester that is totally remote, considering that currently most of the academic hours were not designed to teach in that format. Developed biosafety protocols in the university facilities, continued with the training of teachers' digital skills through the accreditation of knowledge, developed virtual mobility dynamics for teachers and students that facilitate a process of transition to normality, strengthened the existing virtual community to encourage interaction between universities, with the aim of exchanging experiences, recommendations, and digitization mechanisms.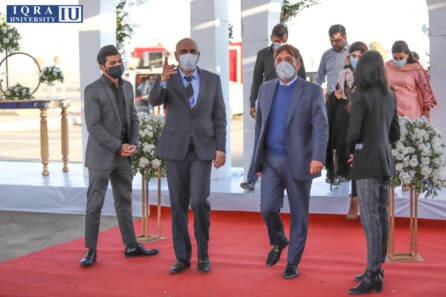 Another feat of Iqra University is its international ranking status. Iqra University is ranked by QS Ranking and Times Higher Education Ranking. It is ranked number one by Higher education of Pakistan in Business category. Also, CIEC has ranked it at number one for the last seven consecutive years.
Along with traditional education and professional studies, Iqra University Bahria Town campus would focus on developing soft skills of students, including the art of communication and interpersonal skills, which are vital for professional growth. In partnership with Pakistan's corporate sector, Iqra plans to ensure that its students get internship opportunities to prepare themselves for the professional life ahead.
Iqra University has also signed an MoU with the EUCLID University – an inter-governmental and treaty-based institution under the United Nations' charter. EUCLID is an international intergovernmental organization similar to the European Central Bank, NATO, or the African Union. In partnership with EUCLID, Iqra University will train its future technocrats to enhance their governance and diplomatic skills and present Pakistan's case and its unfiltered story.

In a bid to give exposure to students and familiarize them with the 21st century challenges, the management has planned two international events at the Bahria Campus in the second-half of 2021. A two-day conference on sustainable development goals (SDG) will include speakers from UNESCO and its partner organizations.
The SDG summit, the first of its kind, will be hosted by Iqra University that would discuss all the 17 goals, including a new global education goal for inclusive and equitable quality education. The second event, which will be held in partnership with the International Telecommunication Union (ITU), would focus on the digitization of education and online learning.
ITU is the United Nations specialized agency for information and communication technologies. Speakers at this two-day event will include current and former leaders of ITU. Detailed information about both events will be forthcoming.
Keeping up with the spirit of internationalization and corporate collaboration, Iqra University has signed MOUs with international Universities, and corporate sectors. The MOUs are signed with Université de Pau et des Pays de l'Adour, France; HBX, Harvard Business School, Boston, USA; University of the Incarnate Word, TX, USA; University of Huddersfield, Queensgate, Huddersfield, West Yorkshire, International UK; University of Essex, UK; The University of Buckingham, UK; Bangor University, Turkey; Istanbul Aydin University, Beşyol Mahallesi, İstanbul, Turkey etc. The collaborations are developed for faculty and student exchange, research projects of mutual interest, technology transfer and international patents. The mobility of students and members of academic staff has been agreed between the parties and subject to circumstantial convenience.
Another landmark of Iqra University is its Incubation Centre. The incubation center has set aside one million dollars for venture capital for its students. The incubation center is providing the incubatee the office space, complete equipment, furniture, mentorship and freedom to implement the ideas. The incubation center is acting as a catalyst for commercialization of students' ideas. The students have registered their companies and giving jobs to their fellows.
Pakistan still lacks the advancement in educational modernization however, Iqra University serves as a hub for internationalization going to new global destination & global research. Through state-of-the-art smart technologies students can lead to universe of success that contribute to sustaining a democratic, self-critical society open to a globalized, interdependent and interconnected world.