In the last few years, several personalities from Pakistan's entertainment industry got married. For some faces related to the industry, it isn't hard to stay in the limelight most of the times. Creating a positive impact on those who look upon you is a really hard thing but leaving a bad impression lasts long which is why some names are judged by the awaam more often.
The recent hot topic of the season is the Yasir Hussain's marriage proposal to Iqra Aziz. Last week the most lavish event of Pakistan, Lux Style Awards (LSA) took place in Karachi. Among the award giving tenure, Yasir Hussain proposed to Iqra Aziz and everyone was happy for them until the 'chummi' scene happened and that did stir a huge debate. Fans of both actors were not impressed by the cheap act.
Ye dono chummi se baaz nai aaengay!
It was not something unexpected as everyone knew their relationship status. The scenario was taken differently by social media users and the ones who belong to the entertainment industry. The actor Hamza Ali Abbasi tried to defend the couple but faced an uproar of criticism by the digital awaam while Veena Malik came in totally against Yasir-Iqra vulgarity.
Well, the bride-to-be recently looped in with the criticizing comments. Yesterday, Iqra Aziz on her official Instagram account posted the picture of her engagement ring and expressed her feelings. The Suno Chanda star gave a shut up call to all those who were commenting negatively on the proposal but turned off the comments bar on her post, irony much?
This is what Iqra posted on her Instagram!
https://www.instagram.com/p/BzvWoBWgpAC/?utm_source=ig_web_copy_link
Social media awaam was quick to identify that the comments option isn't visible. Various social platforms then shared Iqra's post and it became huge. As Pakistanis never spare any chance, they didn't this time either. Where some tried to give Iqra a reality check, some kind-hearted individuals even took her side. Check them out below!
Waisay baat to theek kar rhay hain bhai!

Ye galat baat hai!

Baji, thora ziada nahin ho gya?

Kia? Humain bhi batao!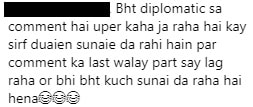 Peace for all, chaos for none!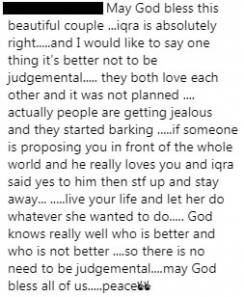 Criticism apart, we wish the couple a happy and blessed future ahead and that they grow together.
Liked how Iqra responded? Tell us in the comments below!