With the start of February an exciting news has appeared on scoial media, which created a chaos over the internet. Allama Iqbal's statue is the hot topic to discuss currently.
Looking at the previous published pieces by different sources has showcased the clear picture, that our people don't miss a chance to troll anyone.
Looking at the situation higher authorities has to issue an order to remove the statue. Even two police officers were suspended as well for their inefficiency.
Allama Iqbal's statue removed Parks and Horticulture Authority (PHA) Chairman Yasir Gillani has officially revealed the news, gardners were behind this statue in his tweet.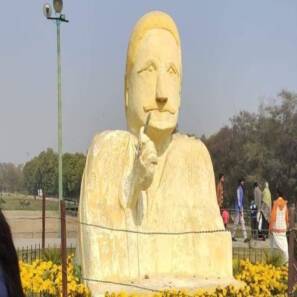 Statue image has created a fun moment for meme lovers.
Twitter filled with the reactions of our nation's youth without realizing the concept behind it.
The reaction of our people on social media was unspeakable.
As soon as Yasir Gillani stated the makers of the statue, a new trend started on Twitter with the hashtag #KeeptheStatue and social media turned the table around.
Even the reactions after the departure of the statue were also mesmerizing as well.
That's how the situation turned out, now the story will go on. It looks like the fun for the trollers are over.
What do you think of the story? Tell us in the comments section below.