Inzamam-ul-Haq is back in the news, not for his phenomenal innings in cricket but for something ridiculously funny!
Inzi bhai was a legend of the game. He scored a good number of runs throughout his career and captained the team Pakistan phenomenally in his tenure as captain.
He belonged to a golden era of Pakistan Cricket team that outshone so many dominant teams and thrust their dominance on the global stage.
In case you forgot about our beloved Inzi, we are here to fill you up with something about him other than cricket. 
Inzamam-ul-Haq took retirement from cricket and invested in a couple of ventures that are going pretty successful now. He joined the social media to connect with his fans and followers.
Inzamam's Facebook account is mainly the platform to connect with him. He regularly posts updates and engages with his fans and followers. He is an active sportsman on the social media and people know it.
Recently, he posted a status on Facebook which might not be as important as the comments by his official account on it.
We managed to point out something really funny posted by his official account in the comments.
Have a look…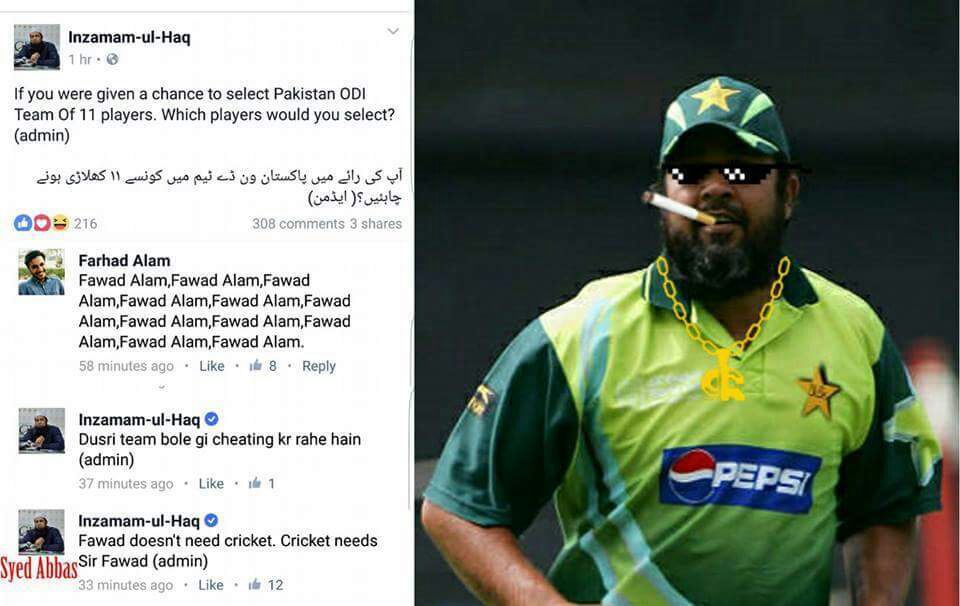 Lord of sarcasm – Inzamam-ul-Haq
Looks like his account was hacked by someone and they managed to write some really funny comments.
If Fawad Alam read it, he must be wondering what in the world these people are up to and most importantly, what is wrong with Inzamam-ul-Haq.
We are not sure if his account is really hacked or he himself wrote those comments, but damn, they are funny! You never know, it could be Inzi bhai himself too. Maybe he was in the mood to be funny there. The level of sarcasm is formidable, though.
Thanks for the good laugh, Mr. Admin!
We wish our beloved Inzamam-ul-Haq all the best of health and business in his life!