Mukhtar Ahmed and Shaheen Akhtar fell in love after marriage. Then even though nine children were lost, the wife lost her mental balance, the days went from good to bad, this couple from Multan did not leave each other.
Just when you are about to lose all hope thinking love is a fallacy, a story like this comes by once again making a believer out of a skeptic. Not even once Ahmed complained, lamented, or despaired over lack of money or anything else at all. Contentment and love poured from every inch of his being.
Does love triumph all odds? It certainly did for Ahmed and Akhtar. This love story of a Pakistani auto driver and his wife from Multan will truly inspire you. You will be surprised to know the extent of miseries this man is ready to face in the name of love.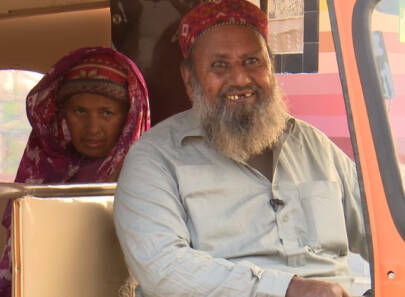 Marriage is a beautiful thing. It is growing old together, hand in hand, while souls work together as one. It is a hand-painted work of art that takes time, patience, passion, hard work, and an endless amount of love. And this darling duo? Well, they are the perfect example. Captured through the lens of BBC Urdu, this love story of 35 years will remind you what Valentine's Day is all about.
Let us introduce you to 'Mitho and Mithi'
"Few or many, the trials and tribulations are a part of life but that does not mean for a little bit of hardship you leave your wife," Ahmed told BBC Urdu.
He added, "To keep her at home is like asking the sun to rise in the other direction. She cannot stay at home without me."
It is to be noted that they have no children because Akhtar had nine miscarriages. While all the miscarriages happened in the early stages, the ninth one took the entire nine months which resulted in Akhtarlosing her mental balance. Nonetheless, Ahmed continues to support her.
Ahmed said, "Due to children she took too much stress. The last miscarriage was a full term of nine months and four days. Earlier miscarriages were those of six months or so but this was a full term of nine months. That left her shell shocked."
In addition to this, Ahmed had to leave his job and stay home to provide for her treatment. The couple got married and left for Karachi four days later.
Ahmed said, "At my workshop, I earned enough but when she fell sick I had to leave the work. All-day I had to attend her, feed her give her medicine, oil and comb her hair, put kohl in her eyes. Do laundry, cook, from a man I became a woman, one who serves."
Moreover, the couple lives in a cattle barn with only one room. A year or two ago the roof fell so for now they sleep outside. There are two cots; on one they sleep and on the other their belongings are stored. If it rains, they take cover under a tarp.
"We bathe with our clothes on as we have no privacy and place to undress. By God's grace time has passed well, now the winters are almost done with," he added.
My wife is one in a million, says Mukhtar Ahmed
Due to her deteriorating health, the husband takes his wife wherever he goes. As he drives an auto, people oftentimes wonder why he brings her along with him. Ahmed shared that some people refuse to sit with her thinking she is sick whereas, those who are educated are kind and understanding.
"My parents, friends, and family all said, remarry but Allah has given me a wife who is one in millions. Whenever she had a miscarriage the doctors would give her injection. They would summon me, please come your daughter is now awake. She looked 20 years younger than her age," he said.
According to Ahmed, as long as Akhtar is happy, he is happy. "She is my life partner after all," he says. If this story brought tears to your eyes, we do not blame you. What an inspiring true love story! Neither Ahmed's courage nor his hope has diminished. We whole-heartedly wish the couple all the happiness and some ease from hardships!
What do you think of this story? Let us know in the comments section below.